---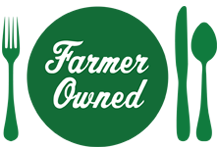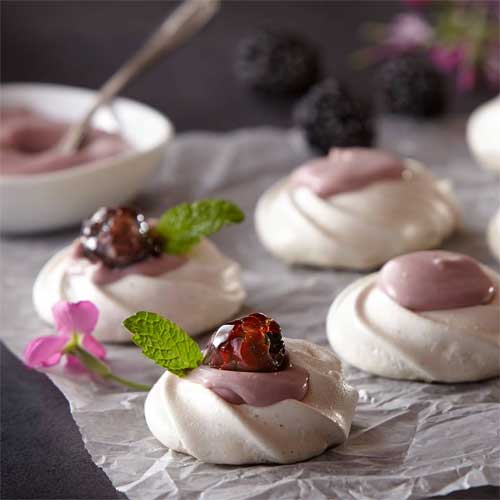 Prep Time
1 hr 35 min

Cook Time


Ready In
4 hrs 10 min

Servings
32
Ingredients
BERRY CURD
1 1/2 cups fresh berries, (blackberries, raspberries and blueberries)
1/4 cup water
1/4 cup sugar
1 Land O Lakes® Egg (yolk only)
3 tablespoons Land O Lakes® Butter, cut into 3 pieces
CANDIED FRUIT
1 cup sugar
1/3 cup water
1/4 cup corn syrup
28 blackberries
PAVLOVAS
1 cup sugar
2 teaspoons cornstarch
4 Land O Lakes® Eggs (whites only)
1 vanilla bean, scrape seeds from inside bean
1 teaspoon vinegar
WHIPPED CREAM
1/3 cup Land O Lakes® Heavy Whipping Cream
GARNISH
Fresh mint leaves, if desired
Directions
Place 1 1/2 cups berries and 1/4 cup water in 2-quart saucepan. Cook over medium-high heat, stirring occasionally, 15 minutes or until berries are very soft. Mash with potato masher.
Place fine strainer over bowl. Pour berry mixture into strainer, pressing berries with back of spoon to squeeze out as much juice as possible. Discard berry seeds. Return strained berry mixture to saucepan. Stir in 1/4 cup sugar. Cook over medium heat, stirring until sugar is dissolved and mixture is slightly thickened.
Whisk 1 egg and egg yolk together in bowl. Pour small amount of hot berry mixture into eggs, whisking constantly. Continue whisking, adding additional hot berry mixture, until about half of berry mixture has been added.
Return berry-egg mixture to saucepan with remaining berry mixture. Continue cooking, stirring constantly, over medium-low heat, 4-5 minutes or until mixture reaches 165°F and has thickened. Remove from heat; whisk in butter until combined and butter is melted. Pour into bowl; refrigerate at least 1 hour or until completely cooled.
Combine 1 cup sugar, water and corn syrup in 1-quart saucepan. Heat over medium-low heat until sugar is dissolved. Increase heat to medium-high. Bring to boil until syrup reaches 300°F-310°F on candy thermometer. Reduce heat to low. Carefully dip berries, using toothpick, into syrup, shaking off excess. Place onto parchment-lined baking sheet; let stand until firm.
Heat oven to 275°F. Line large baking sheet with parchment paper.
Combine 1 cup sugar and cornstarch in bowl; set aside. Beat egg whites in stand mixer fitted with whisk attachment until soft peaks form. Slowly add sugar mixture, beating until stiff peaks form. Add vanilla bean seeds and vinegar; mix well. Spoon egg whites into large piping bag fitted with medium star tip. Pipe egg whites into 1 1/2-inch circle piping, starting in middle of circle, around and up outer edge 2-3 times to create nest shape.
Bake 18-20 minutes. Do not open oven. Turn off oven. Let stand in oven 12 minutes. Remove from oven; cool completely.
Beat 1/3 cup heavy whipping cream until soft peaks form. Gently fold into berry curd. Spoon about 2 teaspoons into bottom of pavlova nest. Top with candied fruit and mint leaf, if desired.
Serve immediately.
More Land O' Lakes Recipes