---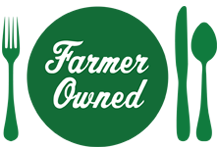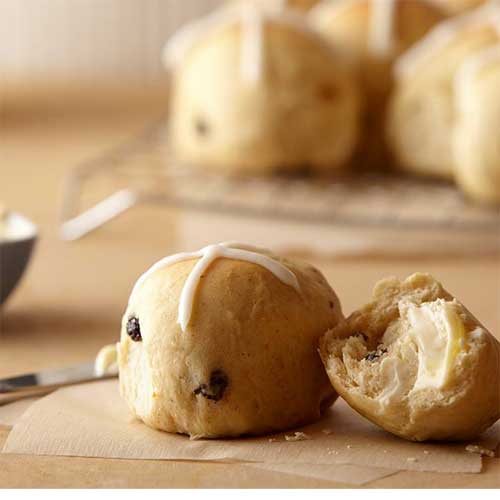 Prep Time
60 min

Cook Time


Ready In
3 hrs 20 min

Servings
24
Ingredients
BUNS
3 tablespoons warm water (105°-115°F)
1 (1/4-ounce) package active dry yeast
1/4 teaspoon sugar
3/4 cup milk
1/4 cup Land O Lakes® Butter, cut into chunks
1/4 cup sugar
3 tablespoons brown sugar
1 teaspoon salt
1 teaspoon freshly grated orange zest
1/2 teaspoon ground allspice
1/3 cup dried currants
3 to 4 cups all-purpose flour
FROSTING
1/2 cup powdered sugar
1 tablespoon Land O Lakes® Butter, softened
2 to 3 teaspoons milk
Directions
Place warm water in bowl; stir in yeast and 1/4 teaspoon sugar until dissolved. Let stand 5-10 minutes or until mixture starts to foam around edges.
Place milk and 1/4 cup butter in 1-quart saucepan; cook over low heat, stirring occasionally, until butter is just melted.
Combine sugar, brown sugar and salt in bowl. Add warm milk mixture; mix well. Add egg, orange zest and allspice; beat at medium speed until well mixed. (Check temperature in bowl. It should be less then 115°F. If it is warmer, let mixture cool slightly.) Add yeast mixture; continue beating until well mixed. Add currants and 2 cups flour; beat until mixture is smooth.
Stir in enough remaining flour, 1/2 cup at a time, until dough is easy to handle. Let dough rest 5 minutes.
Turn dough onto lightly floured surface; knead about 5 minutes until smooth and elastic, adding more flour if dough is sticky. Place into greased bowl; turn greased side up.
Cover with plastic food wrap; let rise in warm place 60-75 minutes. Dough is ready if indentation remains when touched. (Press down with back of spoon or finger to see if indentation remains.)
Grease two (8-inch) round baking pans; set aside.
Heat oven to 350°F.
Punch down dough. Divide dough in half. Cut each half into 12 equal pieces. Shape each piece into a ball. Place balls into prepared pans. Cover with plastic food wrap; let rise 60 minutes.
Bake 18-22 minutes or until light golden brown. Cool completely.
FROSTING
Combine all frosting ingredients in bowl; mix well.
Place buns onto serving platter.
Place frosting in resealable plastic food bag. Cut very small tip from one corner. Squeeze bag to decorate top of each bun with cross.
More Land O' Lakes Recipes