---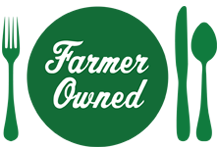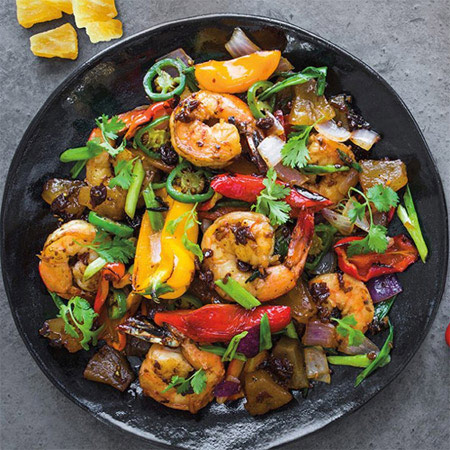 Prep Time
30 min

Cook Time


Ready In
30 min

Servings
4
Ingredients
1/2 cup of Sun-Maid dried pineapple
1 cup of Sun-Maid Natural Raisins
3 Tbsp. grape seed oil, divided
3 scallions, trimmed and sliced
1 Tbsp. ginger, peeled and minced
1 Tbsp. garlic, minced
1 3/4 tsp. black peppercorns, crushed
3 Tbsp. sweet soy sauce
1 Tbsp. soy sauce
1 Tbsp. fresh lime juice
1/2 tsp. salt
12 large shrimp, peeled and deveined
1 jalapeno pepper, thinly sliced into rings with seeds left in
8 small sweet peppers, stems removed and cut in half lengthwise
1/2 large red onion, diced into 1/2 inch pieces
3 green onions, white and green parts roughly chopped
dash of fish sauce
cilantro (for garnish)
Directions
Soak pineapple in 1 cup of warm water for 10 mins.
On med-high heat, warm 1 Tbsp. oil in large saucepan. Add scallions, ginger, and garlic.
Cook until soft and golden.
Add peppercorns, both soy sauces, lime juice, fish sauce, raisins, and salt. Bring to a boil.
Reduce heat to med. for 2 mins. Transfer to blender. Purée until coarsely mixed.
Heat remaining oil in a wok on med-high heat.
Add red onion, sweet peppers, and pineapple.
Add shrimp, turning once until browned.
Discard wok oil. Add black pepper sauce and 2 Tbsp. water to shrimp in the wok.
Cook on med-high heat, stirring until shrimp is well coated.
Add jalapeño peppers and green onions prior to removing from heat.
Plate the stir-fry. Garnish with cilantro. Serve.
More Sun-Maid Recipes