---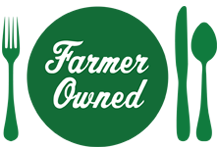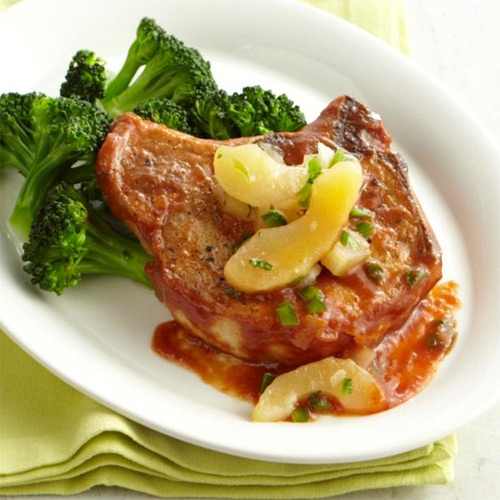 Prep Time
15 min

Cook Time
60 min

Ready In
1 hr 15 min

Servings
4
Ingredients
1 21-ounce can LUCKY LEAF® Premium Apple Fruit Filling & Topping
1 cup apple cider vinegar
1 medium-sized onion, chopped
1/2 cup fresh cilantro, chopped
1/4 cup sliced, fresh jalapeno peppers, seeds removed
2 canned chipotle peppers in adobo sauce, chopped
1 Tablespoon chili powder
1 teaspoon salt
1 teaspoon ground cumin
1 6-ounce can tomato paste
1/4 cup molasses
2 Tablespoons yellow mustard
2 teaspoons Worcestershire sauce
4 pork rib chops, cut 1 in. thick
1/2 teaspoon salt (to season meat)
1/4 teaspoon ground black pepper
2 Tablespoons olive oil
Directions
APPLE JALAPENO BARBECUE SAUCE
Combine apple pie filling, vinegar, onion, cilantro, chipotle, jalapeños, chili powder, salt, and cumin in a medium saucepan. Bring to a boil, reduce heat and simmer, uncovered, 15 minutes or until jalapeños are tender. Remove from heat.
Use an immersion blender to blend the mixture in the saucepan, or cool slightly and transfer to a food processor or blender. Cover and blend until smooth.
Return to saucepan (if needed) and whisk in tomato paste, molasses, mustard and Worcestershire sauce. Bring to a boil. Reduce heat and simmer, uncovered, 15 minutes, or until sauce thickens to desired consistency. Season chops with 1/4 teaspoon salt and the pepper.
PORK CHOPS
In large skillet, heat oil over medium-high heat. Add chops and cook 5 minutes, turning once, until nicely browned. Add 1½ cups of Apple Jalapeño Barbecue Sauce. Bring to boil. Reduce heat, cover and simmer 15 minutes, or until pork is tender. If desired, top chops with Apple Jalapeño Salsa.
APPLE JALAPENO SALSA
Set aside a few slices of apple from the pie filling, cut up and stir together with 1 Tablespoon each of finely chopped onion, finely chopped and seeded jalapeño and cilantro.
Recipe Tip
Refrigerate any unused barbecue sauce up to 2 weeks.