---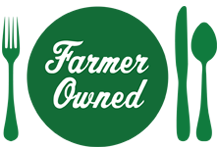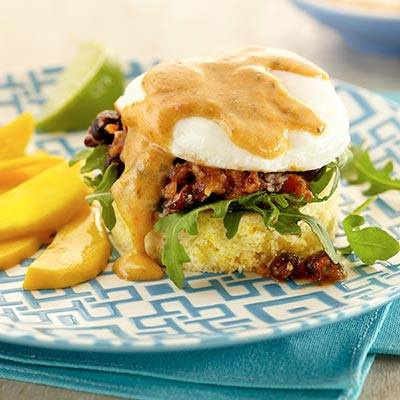 Prep Time
40 min

Cook Time


Ready In
55 min

Servings
12
Ingredients
CORNBREAD
1 2/3 cups all-purpose flour
2/3 cup yellow cornmeal
1/2 cup sugar
2 teaspoons baking powder
1/2 teaspoon salt
1 cup milk
1/2 cup Land O Lakes® Butter, melted, cooled
TOPPING
1 cup Roasted Tomato Salsa
2 (15-ounce) cans black beans, rinsed, drained, slightly mashed
SOUTHWEST HOLLANDAISE SAUCE
3/4 cup Land O Lakes® Butter
1/4 cup water
3 Land O Lakes® Eggs (yolks only)
1 teaspoon chili powder
1/2 teaspoon ground cumin
1/4 teaspoon garlic salt
1/4 teaspoon ground red pepper (cayenne)
Arugula
12 Land O Lakes® Eggs, poached
Directions
Heat oven to 400ºF. Spray 15x10x1-inch baking pan with no-stick cooking spray. Set aside.
Combine flour, cornmeal, sugar, baking powder and salt in bowl. Set aside.
Whisk milk, 1/2 cup butter and 1 egg together in another bowl. Add egg mixture to flour mixture; stir just until combined. Spread into prepared pan. Bake 15 minutes or until light golden brown and toothpick inserted into center comes out clean. Cut into 12 rounds using 3-inch round cookie cutter.
Combine roasted tomato salsa and mashed black beans in bowl. Set aside.
Place 3/4 cup butter in bowl; microwave 30-40 seconds or until melted. Set aside.
Whisk water, egg yolks, chili powder, ground cumin, garlic salt and ground red pepper together in 1-quart saucepan until well mixed. Cook over low heat, whisking constantly, 12-15 minutes or until mixture is thickened. Remove from heat; very slowly whisk in butter.
Top 1 cornbread round with small handful arugula, 1/4 cup bean mixture, 1 poached egg, and 1 tablespoon hollandaise sauce.
Recipe Tip
The cornbread and bean mixture can be made up to one day before serving. Hollandaise sauce should be prepared just before serving as reheating can cause it to separate.
More Land O' Lakes Recipes