---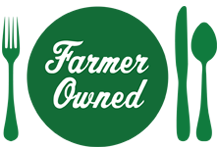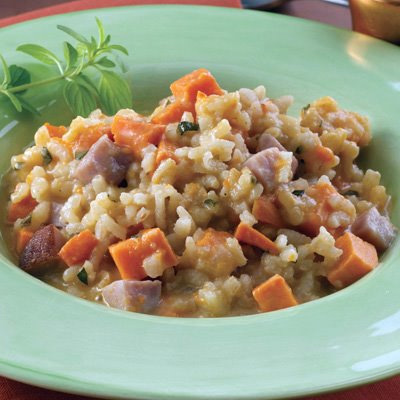 Prep Time
20 min

Cook Time


Ready In
50 min

Servings
6
Ingredients
4 cups chicken broth
1 cup water
Half Stick (1/4 cup) Land O Lakes® Butter with Olive Oil & Sea Salt*
1 medium (1/2 cup) onion, chopped
1/2 teaspoon finely chopped fresh garlic
1 1/2 cups Arborio rice or short grain white rice
2 medium sweet potatoes, peeled, cut into 1/2-inch cubes
1/2 teaspoon salt
1/2 pound (2 cups) cooked ham, cut into 1/2-inch cubes
1/2 cup Land O Lakes® Half & Half
1 tablespoon chopped fresh oregano leaves**
1/2 cup grated Parmesan cheese
Freshly ground pepper
*Substitute Land O Lakes® Butter.
**Substitute 1 teaspoon dried oregano leaves.
Directions
Place broth and water in 4-quart saucepan; cook over medium heat until mixture just comes to a boil. Keep warm.
Meanwhile, melt 2 tablespoons butter in 12-inch skillet over medium heat until sizzling; add onion and garlic. Cook 1-2 minutes or until just softened. Add rice; continue cooking, stirring constantly, 2-3 minutes or until rice just starts to brown.
Stir in 1 cup broth, sweet potatoes and salt. Cook, stirring occasionally, until liquid is almost absorbed. Continue adding broth 1/2 cup at a time, stirring occasionally, 19-21 minutes or until liquid is absorbed each time and rice is almost tender.
Stir in ham, remaining 2 tablespoons butter, half & half and oregano. Cook, stirring often, 5-6 minutes or until rice is tender and liquid is absorbed. Stir in cheese. Season to taste with freshly ground pepper.
Recipe Tip
For the best color and flavor, use deep-colored sweet potatoes, such as dark orange or red.
More Land O' Lakes Recipes