---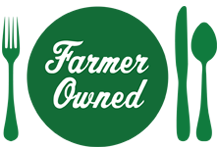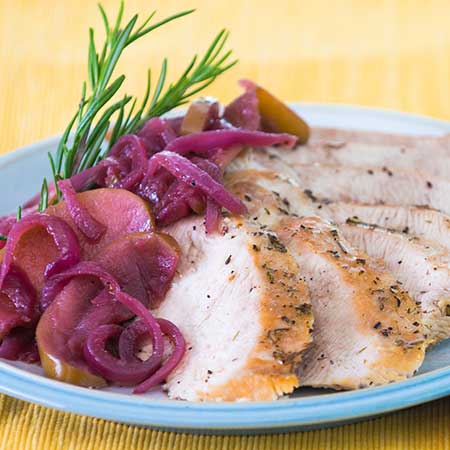 Prep Time
10 min

Cook Time
45 min

Ready In
55 min

Servings
6
Ingredients
TURKEY
2 turkey tenderloins (1 3/4 - 2 lbs total weight)
1/2 tsp Kosher salt
1/4 tsp fresh cracked black pepper
1/4 tsp garlic powder
1/4 tsp dried, ground rosemary
1/4 tsp dried thyme
1 tbsp olive oil
COMPOTE
2 red onions, skin removed, cut in half and sliced thin
1/2 tsp Kosher salt
1/4 tsp fresh cracked black pepper
1/2 cup chicken broth, 99% fat free
1 tbsp balsamic vinegar
2 tart apples, cored, cut into quarters and thinly sliced
1 cup Welch's 100% Grape Juice made with Concord grapes
Directions
Preheat oven to 350 degree F.
Sprinkle 1/2 teaspoon of Kosher salt, 1/4 teaspoon of pepper, the garlic, rosemary and thyme on all sides of the turkey tenderloins.
Heat an oven-safe, non-stick sauté pan over medium-high heat. Once heated, add olive oil and swirl to lightly cover the bottom of the pan.
Place turkey tenderloins into hot pan and sear about 4-5 minutes until browned. Turn and sear the second side for an additional 4-5 minutes. Once seared, Remove tenderloins from the pan and place in a container. Set aside.
Add onions to the same hot pan and sauté for 4-5 minutes or until soft and they begin to brown. Add remaining salt and pepper and stir.
Add chicken stock, vinegar and apples to the pan. Stir and continue to sweat the onion/apple compote for about 3-5 minutes on medium heat until the liquid begins to reduce and apple begins to soften. Add grape juice to the onion/apple compote. Allow to come to a boil and remove from heat.
Place reserved turkey tenderloins on the top of the compote. Place pan in the oven and continue to roast tenderloin uncovered for about 25- 30 minutes until the turkey is no longer pink in the middle and reaches an internal temperature of 160 degrees F. The onion-apple compote will be soft and the liquid reduced by at least half.
Remove from the oven. Place the tenderloins on a cutting board and allow meat to rest for about 5 minutes before slicing.
Slice tenderloin diagonally and serve with onion-apple compote.
More Welch's Recipes