---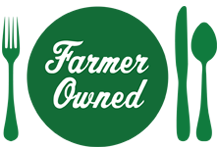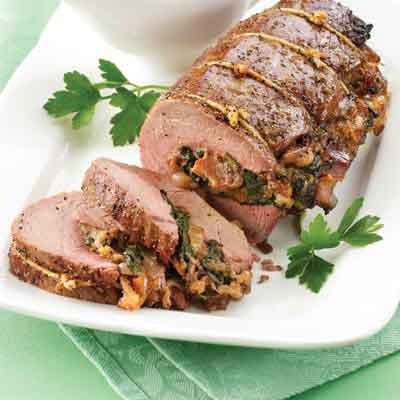 Prep Time
1 hr

Cook Time


Ready In
1 hr 50 min

Servings
8
Ingredients
2 1 1/2- to 2-pounds center-cut beef tenderloin roasts
6 slices bacon , chopped
4 tablespoons Land O Lakes® Butter
1 pound shallots , peeled, thinly sliced
1 (6-ounce) package baby spinach, coarsely chopped
5 (3/4-ounce) slices Land O Lakes® Swiss Cheese, cut into thin strips
1 cup panko breadcrumbs
3 teaspoons coarse salt
2 teaspoons coarse ground black pepper
3/4 cup Land O Lakes® Heavy Whipping Cream
Directions
Heat oven to 400°F. Cut deep slit, horizontally, almost through roasts to form pocket. Open roasts so they lay flat.
Place bacon into 12-inch nonstick skillet. Cook over medium heat, stirring occasionally, until bacon is crisp. Remove bacon with slotted spoon to small bowl. Pour all but 1 tablespoon bacon drippings from skillet into another small bowl; set aside.
Add 3 tablespoons butter to 1 tablespoon bacon drippings in skillet; cook over medium heat until melted. Add shallots; cook 10 minutes or until tender and browned. Stir in spinach; cook 1-2 minutes until leaves are softened. Remove from heat; stir in cheese, bacon and breadcrumbs.
Sprinkle inside surface of each roast with 1 1/2 teaspoons salt and 1 teaspoon pepper. Spread spinach mixture evenly over inside surface of each roast. Fold top portion of roast over filling. Tie roasts at 1-inch intervals with kitchen string, or secure with small turkey skewers.
Add 2 tablespoons reserved bacon drippings and remaining 1 tablespoon butter to same skillet. Place roasts in skillet; cook over medium-high heat, turning as necessary, until well browned.
Place roasts into shallow roasting pan along with any remaining drippings from skillet. (Do not cover.) Bake 30-40 minutes or until meat thermometer inserted in center of roast reaches 135°F. for medium doneness. Remove to cutting board; cover with aluminum foil. Let stand 10 minutes. (Temperature will increase about 10 degrees.)
Meanwhile, add whipping cream to pan drippings in roaster. Cook over medium heat, stirring to scrape up browned bits, until mixture comes to a boil. Continue cooking until desired consistency; strain. Slice beef; serve with sauce.
Recipe Tips
Have your butcher select 2 sections of tenderloin that are a consistent diameter so they roast evenly.
For easy slicing, cut meat between the strings. Place slices on platter; cut and remove strings.
More Land O' Lakes Recipes