---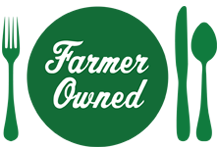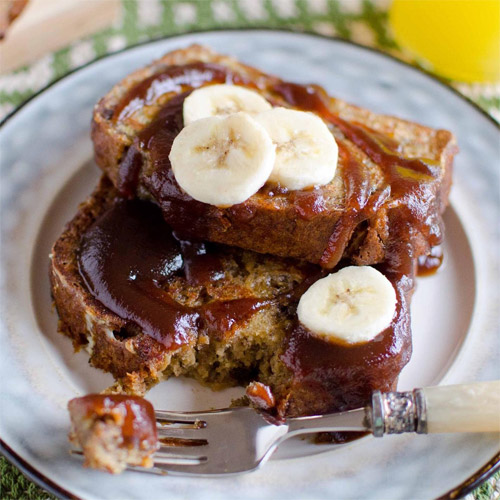 Prep Time
25 min

Cook Time
1 hr 20 min

Ready In


Servings
6
Ingredients
BANANA BREAD
2 cups all purpose flour
1 1/2 teaspoons baking powder
1/2 teaspoon baking soda
1/4 teaspoon salt
2 eggs, lightly beaten
1 1/2 cups mashed bananas (ripe)
1 cup granulated sugar
1/2 cup MUSSELMAN'S® Apple Butter
1/4 cup walnuts, chopped
FRENCH TOAST
2 large eggs, lightly beaten
1/2 cup milk
1 teaspoon vanilla extract
1/2 teaspoon ground cinnamon
allspice
pinch of salt
2 Tablespoons butter
APPLE BUTTER HONEY SYRUP
1/2 cup MUSSELMAN'S® Apple Butter
1/4 cup honey
2 Tablespoons pancake syrup
Directions
For the Banana Bread (Make at least one day before making the French toast)
Preheat oven to 350°. Lightly grease a 9X5X3 inch loaf pan; set aside.
In large mixing bowl, whisk together flour, baking powder, baking soda, and salt. Set aside.
In a separate bowl, combine eggs, bananas, sugar and apple butter. Make a well in the dry ingredients and add the wet ingredients all at once. Gently stir until just combined. (Do not overmix, the batter should still be lumpy.) Fold in the walnuts. Spread batter evenly in prepared loaf pan.
Bake for 55 to 60 minutes, until wooden toothpick comes out clean when poked in center.
Remove from oven and let cool in pan on wire rack for 10 minutes. After 10 minutes, remove from pan and cool completely on cooling rack. For best results wrap tightly in plastic wrap and store overnight before slicing for French toast.
For French Toast
Preheat oven to 400°. Preheat a griddle to 350° or a non-stick skillet on medium heat.
Slice 1/4 inch off the ends of the banana bread. Cut the rest of the loaf into about 8 slices about 1-1/4 inch thick each.
In a pie plate or wide deep dish, whisk together eggs, milk, vanilla, cinnamon, allspice and salt. Melt the butter on the griddle or skillet. Dip each slice of bread into the egg batter, one at a time and place on hot griddle. Cook each side of the bread slices for 1-2 minutes, until browned. Transfer to a baking sheet.
Bake all bread slices at the same time in preheated oven for 12 - 15 minutes, until heated through and outer edges are crispy. Remove from the oven and serve immediately with apple butter honey syrup.
For the Apple Butter Honey Syrup
Whisk together apple butter, honey and pancake syrup in small microwaveable bowl. MIcrowave on high for 30 seconds. Stir and serve immediately.
Recipe Tip
For best results prepare banana bread the day before using in French toast.
More Musselman's Recipes