---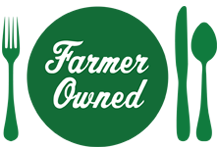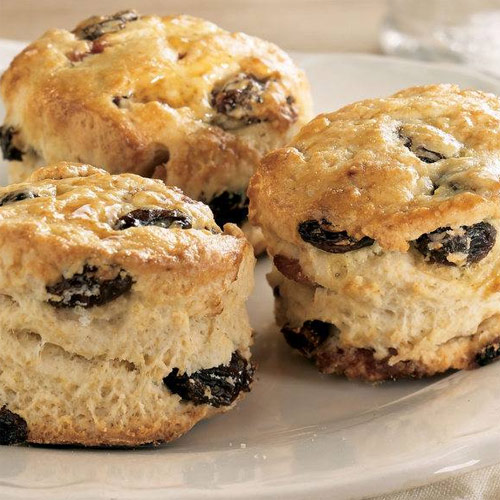 Prep Time
20 min

Cook Time
15 min

Ready In
35 min

Servings
18
Ingredients
5 strips bacon, chopped
6 tablespoons real maple syrup, divided
2 3/4 cups all-purpose flour
4 teaspoons baking powder
1 teaspoon kosher salt
1/2 cup (1 stick) cold butter, cut in small cubes
1 cup Sun-Maid Natural Raisins
2 eggs, divided
1/2 cup buttermilk
Directions
Heat oven to 425°F. Line large cookie sheet with parchment paper. In 10-inch non-stick skillet, cook bacon over medium-high heat until browned and crispy, stirring frequently. Drain well; reduce heat. Stir in 2 tablespoons of the maple syrup. Cook over low heat 1 minute or until bacon is coated and liquid is evaporated, stirring frequently. Set aside to cool slightly.
Meanwhile, in large bowl, mix flour, baking powder and salt very well. Using pastry blender or 2 table knives, cut butter into flour mixture until mixture is crumbly. Stir in bacon and raisins until well distributed. Make a well in center of ingredients.
In medium bowl, beat 1 of the eggs with wire whisk. Whisk in buttermilk and remaining 1/4 cup syrup. Pour into well dry ingredients. Mix with wooden spoon until moistened. Gather into a ball.
Place dough on floured work surface. Knead gently 5 or 6 times. Pat or roll to 3/4-inch thickness. With floured metal 2-inch round biscuit cutter, cut biscuits. Place 1 inch apart on pan. Press scraps together and cut additional biscuits.
In small bowl, whisk remaining egg with 1 tablespoon water. Brush egg wash over top of biscuits.
Bake 13 to 15 minutes or until golden brown.
Recipe Tips
For Drop Biscuits, use 3/4 cup buttermilk. Spoon dough on cookie sheet, 1/4 cup at a time. Brush with egg and bake as directed. Makes 18 to 20 biscuits.
To serve with maple or honey butter, whisk 3 tablespoons maple syrup or honey into 1/2 cup soft butter until creamy.