---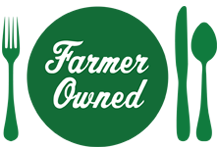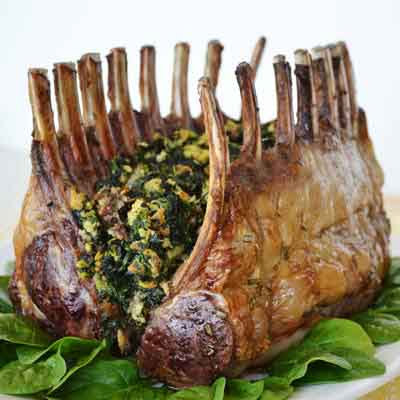 Prep Time
25 min

Cook Time


Ready In
2 hrs 05 min

Servings
8
Ingredients
STUFFING
1 cup dried crumbly-style herb-seasoned stuffing
1/4 cup Land O Lakes® Butter, melted
1 (10-ounce) package frozen chopped spinach, thawed, drained
1 slice bacon, cut into 1/2-inch pieces
1 large Land O Lakes® Egg
1/2 teaspoon dry mustard
1/4 teaspoon salt
1/4 teaspoon pepper
5 feet heavy kitchen or butcher's string
LAMB
1 tablespoon chopped fresh rosemary leaves*
2 teaspoons vegetable oil
1/2 teaspoon salt
2 (about 2 pounds each, 8 chops each) racks of lamb, French-cut (see Recipe Tip)
*Substitute 1 teaspoon dried rosemary leaves, crushed.
Directions
Heat oven to 450ºF.
Combine all stuffing ingredients in bowl, set aside.
Cut 3 (20-inch) lengths of string. Place string, evenly spaced, into ungreased 13x9-inch baking pan.
Combine rosemary, vegetable oil and salt in bowl. Rub over lamb.
Stand racks of lamb together over string in pan, with bottom and sides touching and ribs extending upward.
Fill roast cavity with stuffing. Bring string up and through ribs; tie to secure roast. Wrap bone tips with aluminum foil to prevent excess browning. Bake 10 minutes.
Reduce oven temperature to 350ºF.
Bake 15-20 minutes per pound or until internal temperature of meat is 145ºF (rare), 160ºF (medium), or 170ºF (well done). Check temperature at chop ends and center of roast. Place onto serving platter; remove strings and aluminum foil.
Recipe Tips
When purchasing two racks of lamb, be sure they are the same size so when put together they stand up similar to a crown roast. Have the butcher at the meat counter French-cut the ribs to expose bone tips.
For crisp bacon, precook it before adding to stuffing.
More Land O' Lakes Recipes