---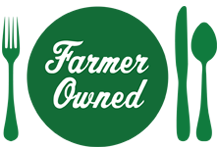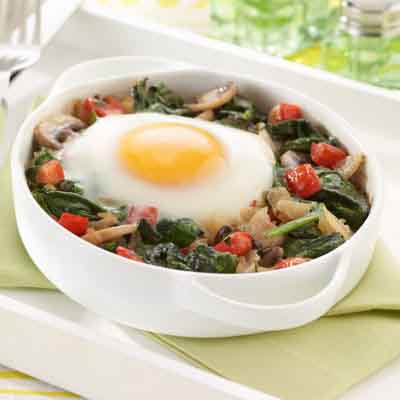 Prep Time
10 min

Cook Time


Ready In
50 min

Servings
4
Ingredients
2 cups frozen hash brown potatoes
1 tablespoon Land O Lakes® Butter
1 medium (3/4 cup) onion, chopped
1 cup sliced mushrooms
1 (6-ounce) bag fresh spinach leaves
6 tablespoons Land O Lakes® Heavy Whipping Cream
1 teaspoon finely chopped fresh garlic
1/2 teaspoon salt
1/4 teaspoon pepper
1 small (1/2 cup) tomato, chopped
4 tablespoons freshly grated Parmesan cheese
2 tablespoons finely chopped fresh basil leaves
4 large Land O Lakes® Eggs
Directions
Heat oven to 400°F. Butter 4 (8-ounce, 1 1/2-inch deep) individual glass or ceramic baking dishes.
Spoon 1/2 cup potatoes evenly onto bottom of each baking dish. Bake 15-20 minutes or until potatoes are very lightly browned.
Melt butter in 12-inch skillet until sizzling; add onions and mushrooms. Cook, stirring occasionally, over medium heat until vegetables are softened. Add spinach leaves; continue cooking, turning spinach often, 4-5 minutes or until spinach is wilted. Add whipping cream, garlic, salt and pepper; continue cooking 1 minute. Add tomato, 2 tablespoons Parmesan cheese and basil.
Spread mixture over partially cooked potatoes; sprinkle with remaining Parmesan cheese. Using a spoon, make an indentation in center of mixture in each baking dish. Crack 1 egg into each indentation. Bake 18-20 minutes or until yolks are set or yolk temperature reaches 160°F.
More Land O' Lakes Recipes