---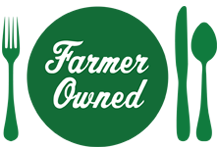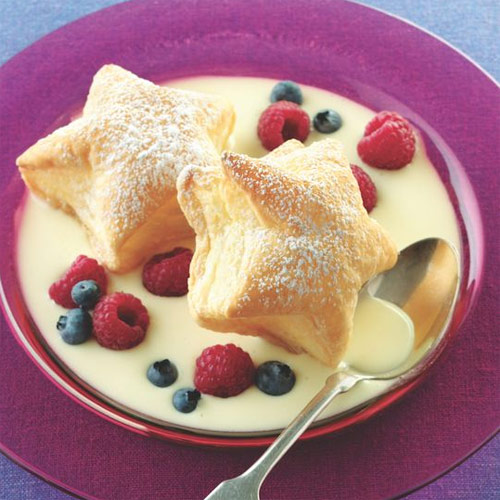 Prep Time
20 min

Cook Time


Ready In
1 hr 50 min

Servings
6
Ingredients
STARS
1 (from 17-ounce package) sheet frozen puff pastry dough, thawed
Powdered sugar
CUSTARD SAUCE
1/4 cup sugar
3 large Land O Lakes® Eggs (yolks only)
1 cup Land O Lakes® Half & Half
1/4 cup white baking chips
1 teaspoon vanilla
1/4 cup Land O Lakes® Heavy Whipping Cream, whipped
FRUIT
1 1/2 cups fresh raspberries
1 1/2 cups fresh blueberries
Directions
Heat oven to 400°F.
Unfold puff pastry dough; roll out on lightly floured surface, to flatten creases and create 10-inch square. Cut 12 stars with 3–inch star-shaped cookie cutter. Place onto ungreased baking sheet. Bake 12-13 minutes or until puffed and golden. Cool completely. Sprinkle stars with powdered sugar.
Whisk together sugar and egg yolks in medium bowl. Set aside.
Pour half & half into 1-quart saucepan; cook over medium heat, stirring occasionally, 4-5 minutes or until half & half comes to a boil. Remove from heat; gradually add hot half & half to egg mixture, whisking constantly until blended. Return mixture to saucepan. Cook over low heat gently stirring occasionally 10-12 minutes or until mixture reaches 175°F or is thick enough to coat back of metal spoon. (Do not boil.)
Remove from heat; stir in white baking chips and vanilla. Let stand 2 minutes; gently whisk until chips are melted and sauce is smooth. Cover; refrigerate about 1 hour or until cooled. Gently stir in whipped cream.
Place 1/4 cup custard into each serving dish. Top each with 2 pastry stars and fresh berries.
Recipe Tip
Prepare the puff pastry stars ahead of time. Store up to 3 days in container with tight-fitting lid. Sprinkle with powdered sugar just before serving.
More Land O' Lakes Recipes