---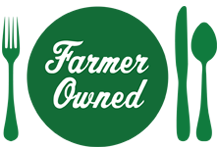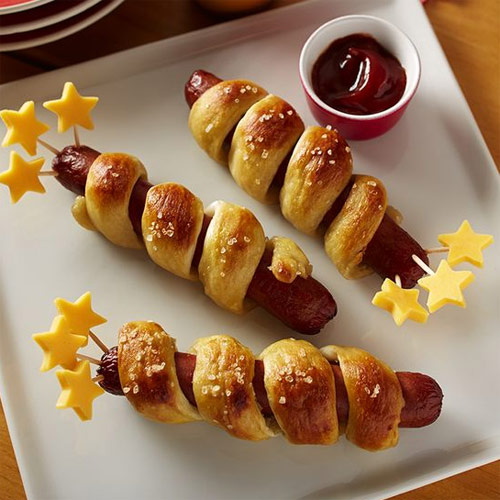 Prep Time
2 hrs 25 min

Cook Time


Ready In
2 hrs 35 min

Servings
6
Ingredients
4 frozen dinner rolls
3 (1 1/2-ounce) slices (1/4-inch thick) Land O Lakes® Deli American
Toothpicks
6 cups water
2 tablespoons baking soda
1 teaspoon sugar
1 large Land O Lakes® Egg, beaten
Coarse salt
8 premium hot dogs
Mustard, if desired
Ketchup, if desired
Directions
Spray baking sheet with no-stick cooking spray. Place rolls onto sheet; cover lightly with plastic food wrap. Let rise at room temperature 1-1 1/2 hours or until completely thawed and rolls feel soft.
Cut cheese into 24 stars using 1-inch star cookie cutter. Attach to toothpicks. Cover; refrigerate until serving.
Cut each dinner roll in half. Roll half of roll into 11-inch rope. Secure one end of bread rope to hot dog with toothpick horizontally. Wrap dough around hot dog 4 times; secure with another horizontal toothpick. Repeat with remaining hot dogs and rolls. Place onto baking sheet; let rest 15 minutes.
Heat oven to 425ºF. Line another baking sheet with parchment paper; set aside.
Place water into large saucepan; bring to boil over high heat. Carefully add baking soda and sugar. (Water will bubble up, then return to a gentle boil.) Drop 3 prepared hot dogs into gently boiling water; cook, turning once, about 30 seconds per side or until surface of dough has lightly bubbled appearance. Remove with tongs; place onto parchment-lined baking sheet. Repeat with remaining hot dogs.
Brush each hot dog with beaten egg; sprinkle lightly with coarse salt. Bake 9-11 minutes or until golden brown. Cool 1 minute.
Stick 3 cheese stars into each hotdog. Serve warm with ketchup and mustard, if desired.
Recipe Tips
Hot dogs can be frozen and reheated, make recipe as directed without cheese stars, cool hot dogs and store in resealable plastic food bags. When ready to serve, thaw hot dogs in refrigerator. Heat oven to 425ºF. Bake hot dogs on parchment-lined baking sheet 8-10 minutes or until internal temperature reaches 165ºF and hot dogs are heated through.
More Land O' Lakes Recipes