---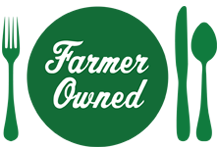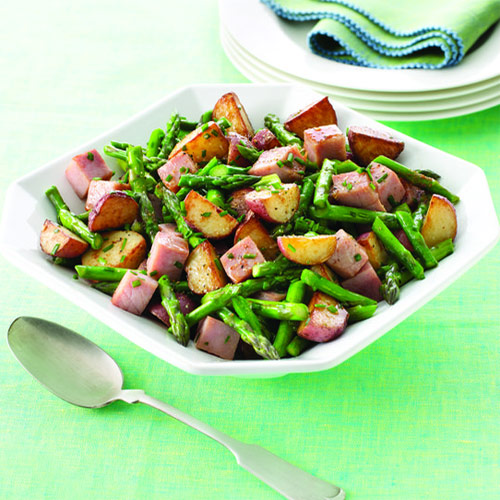 Prep Time
30 min

Cook Time


Ready In
30 min

Servings
6
Ingredients
1 tablespoon Land O Lakes® Butter
1 pound (about 4 cups) small new red potatoes, washed, quartered
6 tablespoons water
1/2 teaspoon salt
1 1/2 pounds fresh asparagus, cleaned, cut into 2-inch pieces
1 teaspoon finely chopped fresh garlic
3/4 pound slice (2 cups) deli honey ham, cubed 3/4-inch
1/3 cup Land O Lakes® Butter
1/4 cup chopped fresh chives
1/4 teaspoon lemon & pepper seasoning, if desired
Directions
Melt 1 tablespoon butter in 12-inch nonstick skillet until sizzling; add potatoes. Cook over medium-high heat 5-7 minutes or until potatoes are starting to brown.
Add 4 tablespoons water and salt. Cover; cook over low heat 7 minutes.
Add remaining 2 tablespoons water, asparagus and garlic. Cover; continue cooking 5-6 minutes or until potatoes and asparagus are crisply tender. Stir in ham; continue cooking 2 minutes or until heated through.
Melt 1/3 cup butter in 1-quart saucepan over medium heat. Continue cooking, stirring constantly and watching closely, 3-4 minutes or until butter foams and just begins to turn golden brown. Immediately remove from heat.
Pour browned butter over potatoes; stir to coat. Place potato mixture into serving bowl. Sprinkle with chives and seasoning, if desired. Serve immediately.
Recipe Tip
Potatoes should be 1 1/2 to 2 inches in diameter.
To prepare asparagus, break off each woody end; discard. Wash thoroughly before cooking.
More Land O' Lakes Recipes