---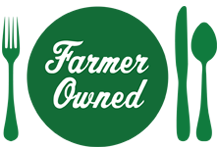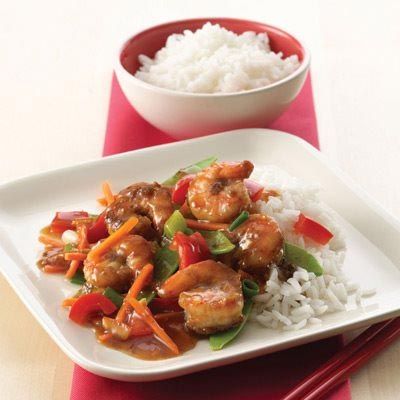 Prep Time
15 min

Cook Time


Ready In
25 min

Servings
4
Ingredients
1 pound (31 to 35 count) fresh medium shrimp*, peeled, deveined
2 tablespoons cornstarch
1 tablespoon Chinese five-spice powder
1/4 teaspoon garlic powder
5 tablespoons Land O Lakes® Butter
3/4 pound fresh snow peas, strings removed
1/2 cup matchstick cut carrots
4 (1/2 cup) green onions, cut diagonally into 1/2-inch pieces
1 large red bell pepper, cut into 1/2- to 1-inch pieces
2/3 cup chicken broth
1/2 cup orange marmalade
1/3 cup soy sauce
1/4 cup rice vinegar
1 tablespoon cornstarch
Chopped peanuts, if desired
2 cups hot cooked rice
*Substitute 1 pound boneless skinless chicken breasts cut into 1-inch pieces. Cook 4-5 minutes.
Directions
Dry shrimp on paper towels. Combine 2 tablespoons cornstarch, five-spice powder and garlic powder in large resealable plastic food bag; add shrimp. Seal bag; shake to coat.
Melt 3 tablespoons butter in 12-inch nonstick skillet over medium-high heat until sizzling. Add coated shrimp; cook, stirring often, 2-3 minutes or until shrimp turn pink. Remove shrimp to bowl; keep warm.
Add remaining 2 tablespoons butter to same skillet. Cook over medium heat until sizzling; add snow peas, carrots, onions and bell pepper. Cook, stirring occasionally, 3-4 minutes or until vegetables are crisply tender.
Combine all remaining ingredients except peanuts and rice in bowl; mix well. Pour into skillet with vegetables; cook 1-2 minutes or until mixture comes to a boil and thickens. Stir in shrimp. Continue cooking until heated through; add peanuts, if desired. Serve over rice.
Recipe Tip
Look for Chinese five-spice powder in the spice section of the supermarket.
More Land O' Lakes Recipes