---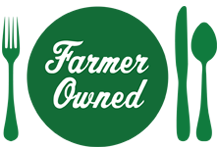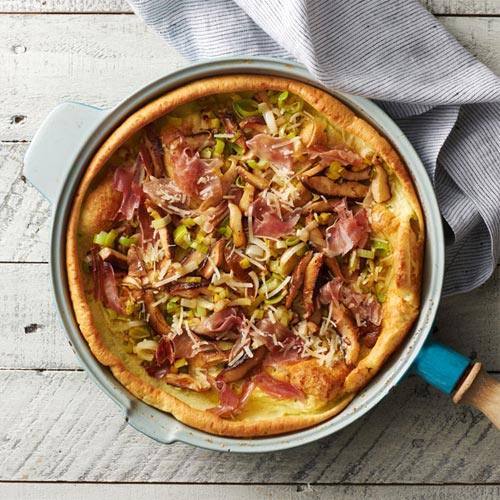 Prep Time
10 min

Cook Time


Ready In
25 min

Servings
4
Ingredients
PANCAKE
1/2 cup all-purpose flour
1/2 cup milk
2 large Land O Lakes® Eggs
Pinch of salt
1 tablespoon chopped chives
1 tablespoon shredded Parmesan cheese
2 tablespoons Land O Lakes® Butter
TOPPING
2 tablespoons Land O Lakes® Butter
1 (3.5 ounce) package (2 cups) shiitake mushrooms, stemmed, sliced
1 small (1 cup) leek, rinsed, julienned
Pinch of salt
Pinch of pepper
3 tablespoons shredded Parmesan cheese
1 ounce thinly sliced prosciutto, torn into bite-sized pieces
Directions
Heat oven to 425°F.
Place flour, milk, eggs and salt into blender container. Cover; blend on high until smooth, scraping sides as needed. Add chives and 1 tablespoon shredded Parmesan; blend until well mixed.
Melt 2 tablespoons butter in 9-inch ceramic pie plate or metal pie pan in oven. Swirl butter to cover bottom of pan.
Carefully pour batter into hot pie plate. Bake 13-15 minutes or until puffed and light golden brown.
Meanwhile, melt 2 tablespoons butter in large skillet over medium-high heat. Add mushrooms, leeks, salt and pepper; sauté until mushrooms begin to darken and leeks are wilted. Remove from heat; set aside.
Immediately after removing pancake from oven, sprinkle bottom evenly with 2 tablespoons shredded Parmesan cheese. Top with mushroom mixture, prosciutto, and remaining Parmesan cheese. Serve immediately.
Recipe Tip
Do not use glass pie plate. Pouring cold liquid into a hot glass pie plate could cause the pie plate to break.
More Land O' Lakes Recipes