---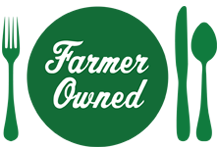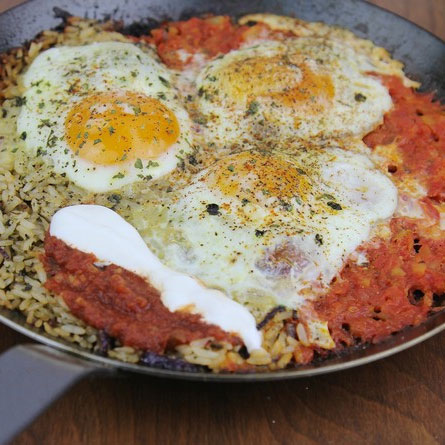 Prep Time
30 min

Cook Time


Ready In
30 min

Servings
4
Ingredients
1 small purple onion, sliced
1 tablespoon butter
2 tablespoons extra-virgin olive oil
1/2 + 1/8 teaspoon sea salt
1 teaspoon dried cilantro
1 cup of cooked Riceland Boil-in-Bag White Rice
1 ten-ounce can of diced tomatoes and green chiles, drained.
4 eggs
1/8 teaspoon black pepper
1/8 teaspoon garlic powder
1/8 teaspoon cayenne pepper
fresh cilantro
1 tablespoon sour cream
1 tablespoon salsa
Directions
Sauté onion in skillet over medium heat with butter, 1/2 teaspoon of salt, dried cilantro, and 1 tablespoon olive oil for five minutes. Add rice, stir thoroughly and set aside.
Puree can of Rotel and add to skillet and stir until heated through, approximately five minutes. Push Rotel to the side and add the cooked rice and onion mixture to the other side of skillet.
Carefully crack eggs over the rice and tomato mixture in skillet, being careful not to break yokes. Top eggs with black pepper, 1/4 teaspoon salt, garlic power and cayenne pepper and cook on low heat for approximately 10 to 15 minutes. Whites and yokes of eggs should be firm to the touch. Remove from heat.
Drizzle with 1 tablespoon olive oil and finish with fresh cilantro, sour cream and salsa.
Serve and enjoy!
More Riceland Recipes