---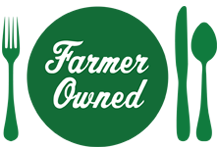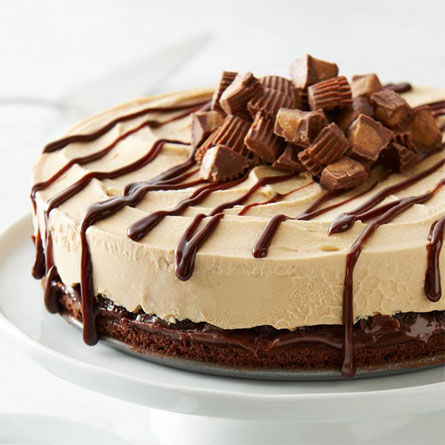 Prep Time
35 min

Cook Time


Ready In
11 hrs

Servings
12
Ingredients
BROWNIE
1/4 cup Land O Lakes® Butter, melted
3/4 cup sugar
2 large Land O Lakes® Eggs
1/4 cup milk
1 tablespoon light corn syrup
1 teaspoon vanilla extract
3 ounces unsweetened baking chocolate, melted
1/2 cup all-purpose flour
1/2 teaspoon baking powder
COOKIE CRUNCH LAYER
1 cup coarsely crushed chocolate sandwich cookies
1 cup Homemade Hot Fudge Sauce
ICE CREAM LAYER
4 cups (1 quart) vanilla ice cream
1 cup creamy peanut butter
TOPPING
1 cup coarsely chopped mini peanut butter and chocolate cups
1/3 cup Homemade Hot Fudge Sauce, warmed
Directions
Heat oven to 350°F. Grease bottom of 9-inch springform pan. Wrap outside with aluminum foil, set aside.
Beat 1/4 cup butter and sugar in bowl until well mixed. Add eggs, one at a time, beating well after each addition. Add 1/4 cup milk, corn syrup, and 1 teaspoon vanilla; beat until well mixed. Add 3 ounces melted chocolate; continue beating until well mixed. Stir in flour and baking powder until well mixed.
Pour brownie batter into prepared pan. Spread mixture evenly in pan. Bake 25-27 minutes or until toothpick inserted 1 inch from edge comes out clean. (Do not over bake.) Cool completely. Freeze 30 minutes.
Gently spread 1 cup hot fudge topping onto brownie. Sprinkle with cookie crumbs; gently press into hot fudge. Freeze 30 minutes.
Combine ice cream and peanut butter In medium bowl using hand mixer until just combined (some peanut butter swirls are okay). Spread on top of cookie crumb layer. Cover; freeze 8 hours or overnight until ice cream is set.
Remove cake from freezer; let stand 20 minutes at room temperature. Sprinkle with peanut butter chocolate cups. Pour 1/3 cup hot fudge over top of cake.
Serve immediately.
More Land O' Lakes Recipes