---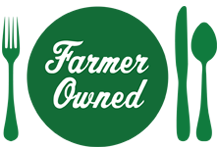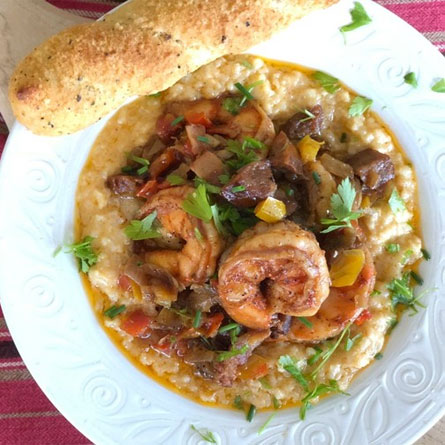 Prep Time
45 min

Cook Time


Ready In
45 min

Servings
4
Ingredients
GRITS
1 cup Riceland Long Grain Brown Rice or Riceland American Jazmine Rice, uncooked
2 1/2 cups unsalted chicken stock
1 1/2 teaspoons Liquid Smoke
1/2 cup heavy cream
1/2 teaspoon kosher salt
1 teaspoon smoked chipotle pepper
1 teaspoon smoked paprika
4 Tablespoons unsalted butter
1/4 cup cream cheese
4 ounces smoked gouda, grated
1/2 cup white wine, optional (substitute unsalted chicken stock)
Freshly cracked black pepper
CREOLE SHRIMP
6 slices thick-sliced bacon, thinly sliced and drippings reserved
1 cup cubed andouille sausage (or more if desired)
3 Tablespoons clarified butter
1/2 red bell pepper, chopped
1/2 yellow bell pepper, chopped
1/2 medium yellow onion, chopped
2 cloves garlic, minced
1 Tablespoon fresh thyme leaves
1 pound large shrimp, peeled and deveined
Garnishes: bacon, andouille sausage, minced parsley, thyme and/or chives. Green onions may also be sued.
Creole Seasoning: Use your favorite brand.
Directions
FOR GRITS
Place rice into a food processor or blender. Secure lid.
Pulse rice until desired fineness is achieved. We like ours to have a somewhat coarse texture.
In a large saucepan, bring stock, Liquid Smoke and cream to a boil over medium-high heat.
Gradually stir in rice grits, whisking until smooth and creamy.
Reduce heat to low, cover and cook, whisking occasionally until very creamy but still with some texture, about 20-25 minutes.
Whisk in smoked chipotle and smoked paprika. (to taste)
Remove from heat and whisk in butter, cream cheese and gouda.
Season with salt and pepper.
Whisk in additional white wine as needed for creamy consistency.
Serve topped with Creole Shrimp mixture.
FOR THE SHRIMP
In a large skillet over medium-high heat, fry thinly sliced bacon until crisp; drain on paper towels and reserve.
In reserved bacon drippings, slightly brown andouille sausage; drain on paper toweling and reserve.
Add clarified butter to skillet and melt. (Unsalted butter may be substituted.)
Add red and yellow bell peppers and onions to skillet and cook until softened. Add garlic and thyme leaves.
Remove pepper mixture from skillet and drain on paper towels; set aside.
Thoroughly dry shrimp and coat liberally with Creole Seasoning; sear shrimp on both sides in skillet.
Add in reserved pepper mixture and cook shrimp through. Do not overcook.
Serving Suggestion
Spoon a generous amount of rice grits into each serving bowl. Top grits with several shrimp and some of the pepper mixture.
Garnish with reserved bacon, andouille sausage, minced parsley and chopped chives
Serve with crusty garlic bread and a side salad, if desired.