---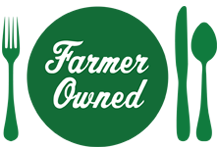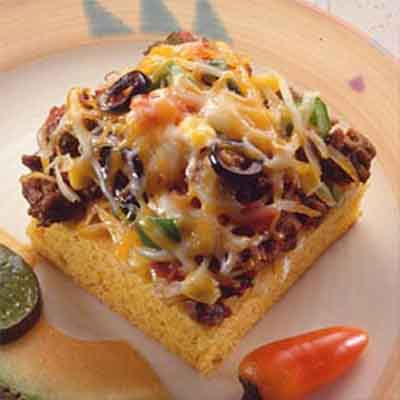 Prep Time
45 min

Cook Time


Ready In
1 hr 30 min

Servings
8
Ingredients
FILLING
1 1/2 pounds lean ground beef
1/2 cup chopped green bell pepper
1 small (1/2 cup) onion, chopped
1 (16-ounce) jar mild thick and chunky salsa
1 (11-ounce) can whole kernel corn, drained
1 to 2 tablespoons garlic powder
1 tablespoon chili powder
CRUST
1 cup yellow cornmeal
1/2 cup all-purpose flour
2 tablespoons sugar
2 teaspoons baking powder
1 teaspoon baking soda
1 teaspoons salt
1 cup buttermilk
2 tablespoons Land O Lakes® Butter, melted
2 large Land O Lakes® Eggs, slightly beaten
8 ounces (2 cups) shredded Cheddar cheese
1/2 cup sliced ripe olives, drained
TOPPING
Sour cream
Salsa, if desired
*Substitute 1 tablespoon vinegar or lemon juice plus enough milk to equal 1 cup; let stand 5 minutes.
Directions
Heat oven to 350°F. Grease 13x9-inch baking pan; set aside.
Cook ground beef in 12-inch skillet over medium-high heat, stirring occasionally, 10-12 minutes or until no longer pink; drain. Stir in all remaining filling ingredients. Reduce heat to low. Cook, stirring occasionally, 15 minutes; set aside.
Combine cornmeal, flour, sugar, baking powder, baking soda and salt in bowl. Stir in buttermilk, butter and eggs just until moistened. Spread onto bottom of prepared pan. Sprinkle with 1 cup cheese. Spread meat mixture evenly over cheese. Bake 30-40 minutes or until crust is golden brown. Sprinkle with remaining cheese and olives. Continue baking 3-4 minutes or until cheese is melted. Serve with sour cream and salsa.
More Land O' Lakes Recipes