---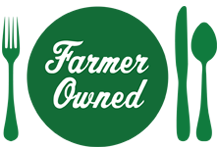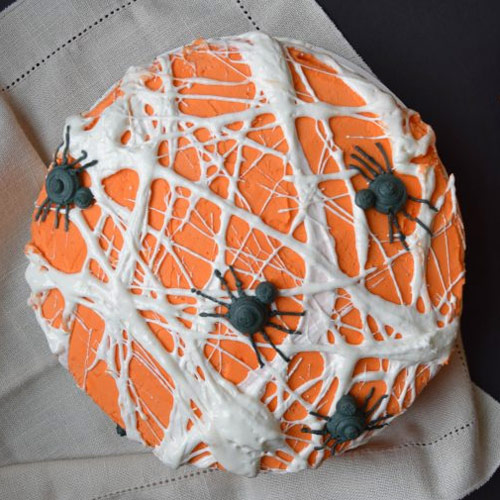 Prep Time


Cook Time


Ready In


Servings

For a step-by-step guide and helpful tips to make this delicious cake, click here.
Ingredients
2 cups of all purpose flour
2 cups of sugar
3/4 cup of unsweetened cocoa powder
2 teaspoons of baking powder
1/2 teaspoon of baking soda
1 teaspoon of salt
1 cup of buttermilk, at room temperature
1/2 cup of vegetable oil
2 eggs, at room temperature
1 tablespoon of vanilla
1/2 cup of brewed coffee
1/2 cup of boiling water
FROSTING
4 sticks of unsalted butter, at room temperature
8 cups of confectioners' sugar, sifted
1 tablespoon of vanilla
3 – 4 drops of orange food coloring
2 – 3 drops of black food coloring
6 ounces of marshmallows
Directions
Preheat your oven to 350°F. Butter and flour two 9-inch cake pans. Measure out all of the cake ingredients.
In a large bowl, mix together the flour, sugar, cocoa, baking powder, baking soda, and salt. Add the buttermilk, vegetable oil and eggs. Whisk the wet and dry together ingredients until entirely incorporated. Carefully mix in the hot coffee and boiling water.
Pour the batter into the prepared cake pans. Place cakes in the preheated oven and bake for 30 to 35 minutes until the cakes spring back and an inserted toothpick comes out clean. Set the cakes aside to cool while you make the buttercream.
To make the buttercream frosting, place the butter, confectioners' sugar and vanilla into the bowl of a stand mixer. Mix on low speed for five to six minutes until completely smooth. Divide the frosting into two bowls. Place three-fourths of the frosting in a large bowl and mix in the orange food coloring. In a smaller bowl, mix the remaining fourth of frosting with the black food coloring. Set the black frosting aside.
Once the cakes are cool, remove them from the pan. Place the bottom layer on a serving plate and frost with orange buttercream. Top with the second layer of cake and frost the entire cake with the remainder of the orange frosting.
Place the marshmallows in a large microwave-proof bowl. Melt the marshmallows in 30-second increments until completely melted. Take the melted marshmallow between your fingers and stretch out to look like a spider web. Drape over the cake artistically.
Divide the black frosting into two piping bags, one fitted with a wide round tip and the other with a narrow round tip. Use the broader tip to pipe the bodies and heads of the spiders and the narrower tip to pipe the legs.
Pipe as many spiders as you would like and then serve the cake immediately!
Recipe Tip
The cake will stay good for three to five days at room temperature or a week in the fridge.
More FarmerOwned Recipes