---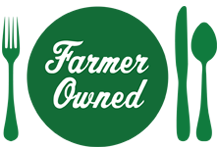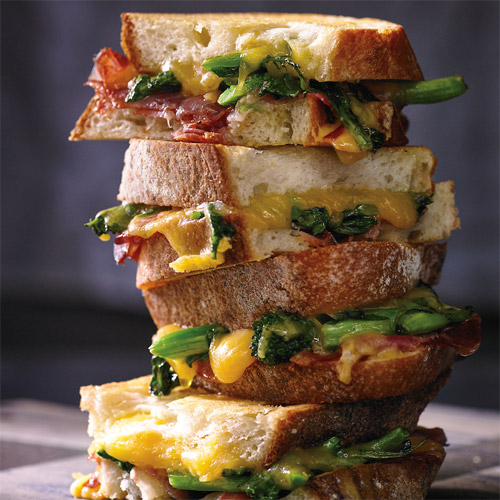 Prep Time
20 min

Cook Time


Ready In
20 min

Servings
4
Ingredients
2 tablespoons extra-virgin olive oil
2 garlic cloves, peeled and smashed with the side of a knife
Pinch red pepper flakes
1/2 bunch broccoli rabe, tough stems trimmed, roughly chopped
Salt and freshly ground black pepper, to taste
1 1/2 teaspoons honey
8 slices crusty artisan bread
2 cups shredded Darigold cheddar cheese
1/4 pound thinly sliced coppa or prosciutto
3 tablespoons Darigold butter, softened
Directions
Preheat the oven to 450°F. Place two heavy sheet pans in the oven to preheat. (Any electric sandwich grill may be used instead.)
Heat the oil in a large, heavy skillet over medium-high heat. Add the garlic and red pepper flakes and cook until garlic is lightly browned. Add the broccoli rabe and season with salt and pepper. Cook, stirring until tender (6-7 minutes). Stir in the honey and remove to a bowl; set aside.
Spread out 4 slices of bread on a cutting board. Top with the cheddar cheese, the coppa and broccoli rabe. Cover with the remaining bread and press sandwiches together. Butter the top, outside surface of each sandwich.
Using oven mitts, remove one of the hot sheet pans from the oven and place the sandwiches on it butter-side down. Carefully butter the remaining side of each sandwich. Using oven mitts, place the remaining hot sheet pan on top and press down on the sandwiches.
Transfer to the oven and bake 8 to 10 minutes, or until the sandwiches are browned and the cheese is melted. Carefully remove from the oven, using oven mitts, and remove top pan and set aside to cool.
Plate sandwiches and serve immediately.