---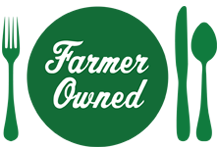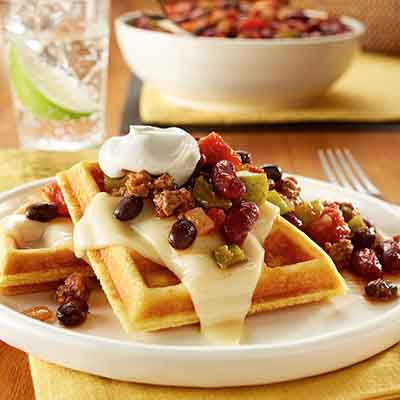 Prep Time
20 min

Cook Time


Ready In
1 hr

Servings
8 - 10
Ingredients
CHILI
2 tablespoons Land O Lakes® Butter
1 1/4 pounds lean ground beef
1 medium (1 cup) onion, chopped
1 small (1/2 cup) green bell pepper, chopped
2 (14.5-ounce) cans diced tomatoes, undrained
2 (16-ounce) cans kidney beans, rinsed, drained
1 (15-ounce) can black beans, rinsed, drained
1 (8-ounce) can tomato sauce
2 teaspoons chili powder
1 teaspoon ground cumin
1 teaspoon salt
1/4 teaspoon pepper
WAFFLES
1/4 cup Land O Lakes® Butter, softened
3 tablespoons sugar
2 large Land O Lakes® Eggs
1/2 cup sour cream
1/2 cup milk
1 cup all-purpose flour
2/3 cup yellow cornmeal
1 1/2 teaspoons baking powder
1/2 teaspoon salt
1/4 teaspoon baking soda
8 (3/4-ounce) slices Land O Lakes® Deli American
Sour cream, if desired
Directions
Melt 2 tablespoons butter in 6-quart saucepan until sizzling; add ground beef, onions, green pepper, salt and pepper. Cook over medium-high heat, stirring occasionally, until meat is browned. Drain off fat, if necessary.
Stir in all remaining chili ingredients. Bring to a full boil; reduce to a simmer. Simmer 30-40 minutes or until flavors have combined and mixture has thickened.
Heat waffle iron.
Combine 1/4 cup butter and sugar in bowl; beat at medium speed, scraping bowl often, until creamy. Add eggs, 1 at a time, beating well after each addition. Stir in sour cream and milk. Add all remaining waffle ingredients except cheese. Beat at low speed just until well mixed.
Spray waffle iron with no-stick cooking spray. Pour 2/3 cup batter into waffle iron. Cook according to waffle iron instructions.
Remove waffle from waffle iron; immediately top waffle with 2 slices cheese. Cover loosely with aluminum foil while preparing other waffles.
Cut each waffle in half; top with 1 cup chili and sour cream, if desired
More Land O' Lakes Recipes