---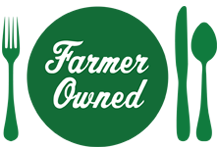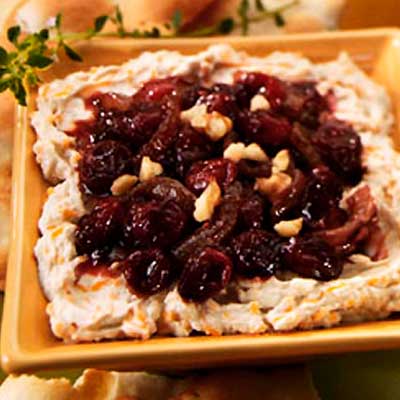 Prep Time
20 min

Cook Time
20 min

Ready In
1 hr 40 min

Servings
24
Ingredients
1 8-ounce package cream cheese, softened
1 4-ounce package crumbled blue cheese, room temperature
1 cup (4 ounces) finely shredded Cheddar cheese, room temperature
2 teaspoons vegetable oil
1 medium sweet onion, sliced, quartered
1 teaspoon sugar
1 cup Ocean Spray® Fresh or Frozen Cranberries
1/4 cup sugar
1/4 cup water
1 tablespoon balsamic vinegar
1/4 cup coarsely chopped walnuts
Directions
Combine cream cheese and blue cheese in a medium mixing bowl; beat with electric mixer until smooth and creamy. Add Cheddar cheese; beat until well blended. Spread in shallow serving bowl. Cover; refrigerate at least 1 hour to blend flavors.
Meanwhile, heat oil in a large nonstick skillet over medium-high heat. Add onion; cook and stir 2 to 4 minutes or until tender. Reduce heat to medium-low; stir in 1 teaspoon sugar. Cook for 10 to 12 minutes or until onion is soft and golden, stirring occasionally. Remove onion from skillet; set aside.
In same skillet, combine cranberries, remaining sugar and water. Cook over medium heat about 5 minutes or until cranberries pop and mixture thickens, stirring occasionally. Stir in vinegar and onions. Cool slightly.
To serve, bring cheese spread to room temperature. Spoon cranberry mixture over cheese spread; sprinkle with walnuts. Serve with assorted crackers.
More Ocean Spray Recipes