---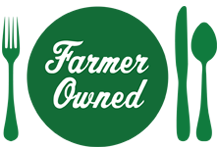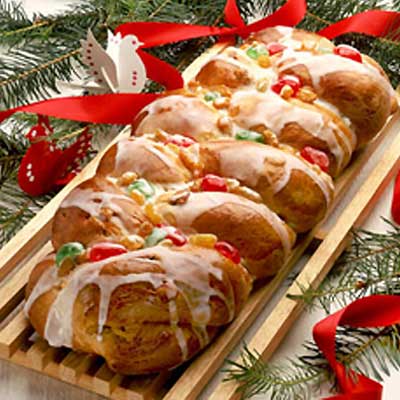 Prep Time
30 min

Cook Time
30 min

Ready In
2 hrs 10 min

Servings
12
Ingredients
3/4 cup Sun-Maid Golden Raisins
1/2 cup diced candied fruits and peels
1/4 cup brandy
2 teaspoons grated lemon peel
3-1/2 to 4 cups all-purpose flour
1/4 cup sugar
2 packages fast-rising active dry yeast
2 teaspoons ground cardamom
1/2 teaspoon salt3/4 cup milk
1/2 cup butter or margarine
2 eggs
ICING
1 cup sifted powdered sugar
2 tablespoons milk
Directions
Combine raisins, fruits and peels, brandy and lemon peel; set aside.
In mixing bowl combine 2-1/2 cups of the flour, the sugar, yeast, cardamom and salt.
Heat milk and butter to 125 to 130 F; stir into dry mixture. Mix in one of the eggs and the raisin-brandy mixture.
Stir in enough of the remaining flour to make a soft dough. Knead on a floured surface 8 to 10 minutes, until smooth and elastic. Cover; let rest 10 minutes.
Form dough into 3, 18-inch ropes; braid together, tucking ends under.
Place on greased baking sheet. Cover; let rise in warm place until almost doubled in size, 50 to 60 minutes.
Brush with remaining egg, beaten.
Bake at 350 F for 30 to 35 minutes or until golden. Cover with foil as needed to prevent overbrowning. Cool.
Make icing by whisking together smooth 1 cup sifted powdered sugar and 2 tablespoons of milk.
Decorate with additional candied fruits and raisins; drizzle with icing.



More Sun-Maid Recipes