---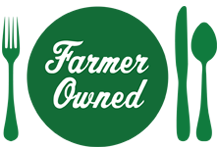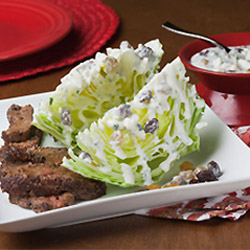 Prep Time


Cook Time


Ready In


Servings
4
Ingredients
DRESSING
1 cup buttermilk
1/2 cup light mayonnaise
2 tablespoons finely chopped parsley
1 tablespoon minced onion
1 teaspoons minced garlic
1 teaspoon white vinegar or lemon juice
8 ounces crumbled blue or gorgonzola cheese
3/4 cup Sun-Maid Natural Raisins and Golden Raisins, mixed together
salt and pepper, to taste
SALAD
1-1/2 pounds well-trimmed rib-eye steaks or other tender boneless beef
1 teaspoon ground cumin
1 teaspoon each dried oregano, granulated garlic, granulated onion and paprika
1 head iceberg lettuce cut into wedges for 6 servings
Directions
DRESSING
Stir together first six dressing ingredients. Press larger crumbles of cheese with the back of a spoon to blend into dressing.
Add raisins. Season to taste with salt and pepper. Cover and refrigerate until ready to serve. (Keeps refrigerated up to 2 days.)
Makes about 2 cups.
SALAD
Season beef with salt and pepper as desired.
Mix spices in a small bowl; rub evenly over beef. Best prepared at least 2 hours or up to 24 hours ahead; cover and refrigerate.
Heat charcoal or gas grill. Grill beef to desired doneness. Let rest 5 minutes then thinly slice. Serve sliced beef with lettuce wedges and dressing.
---
Reviews
More Sun-Maid Recipes