---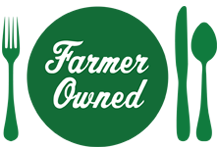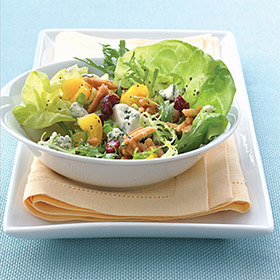 Prep Time
25 min

Cook Time
5 min

Ready In
30 min

Servings
16
Ingredients
Salad Dressing
1/4 cup olive oil
2 tablespoons sugar
1/2 teaspoon salt
1/8 teaspoon pepper
1/4 cup tarragon white wine vinegar or white wine vinegar
1/2 teaspoon poppy seed
Almonds
1 tablespoon Land O Lakes® Butter
1/2 cup slivered almonds
3 tablespoons sugar
Salad
2 (10-ounce) packages European salad blend or your favorite salad blend
1 medium (1 cup) yellow bell pepper, cut into 1-inch pieces
1/2 cup sliced green onions
1/2 cup sweetened dried cranberries or cherries
4 ounces (1/2 cup) crumbled blue cheese or feta cheese
Directions
Combine all dressing ingredients in jar or small container with tight-fitting lid; shake well to mix. Refrigerate.
Melt butter in 10-inch skillet over medium heat until sizzling; add almonds and 2 tablespoons sugar. Continue cooking, stirring constantly, 4-5 minutes or until sugar melts and nuts are golden brown.
Remove from heat; sprinkle with remaining 1 tablespoon sugar. Quickly spread onto waxed paper-lined baking sheet; cool completely.
Combine all salad ingredients, caramelized almonds and dressing in bowl just before serving.
Serve immediately.
More Land O' Lakes Recipes