---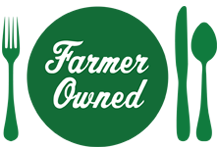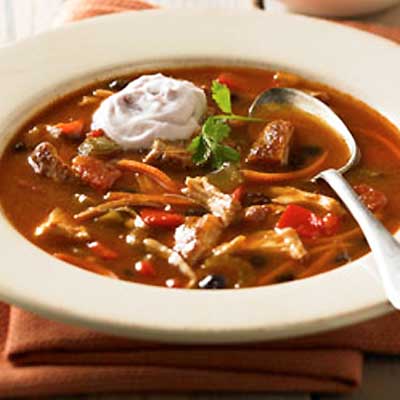 Prep Time
30 min

Cook Time
60 min

Ready In


Servings
8 to 10
Ingredients
SOUP
2 tablespoons ground cumin
2 tablespoons ground chili powder
2 teaspoons garlic powder
1 tablespoon salt
1/2 cup olive oil, divided
4 boneless, skinless chicken breasts
4 boneless, skinless chicken thighs
1 cup diced onion
3 cloves garlic, minced
1 cup diced red bell pepper
1 cup diced green bell pepper
1 cup shredded carrot
1 cup chopped celery
2 32-ounce packages low-sodium chicken broth or stock
1 12-ounce bottle Heinz® Chili Sauce
1 14 1/2-ounce can diced tomatoes or diced tomatoes with green chilies
1 15-ounce can pinto or black beans, rinsed and drained
1/4 cup corn meal or masa
2-3 tablespoons water
1/3 cup chopped fresh cilantro leaves
CRANBERRY CREME
1 cup heavy whipping cream
1/3 cup Ocean Spray® Jellied Cranberry Sauce
Directions
Combine cumin, chili powder, garlic powder, and salt in small bowl. Rinse and pat dry chicken; sprinkle both sides with 1/2 (about 3 tablespoons) of cumin spice mixture; set aside remaining spice mixture.
Heat 1/4 cup olive oil over medium high heat in a 12-inch non stick skillet. Add chicken to skillet and cook until lightly browned, 5 to 7 minutes. Turn over; continue cooking until chicken is just done, 5 to 7 minutes more. Cool. Shred or cut into small pieces; set aside.
Heat remaining 1/4 cup olive oil in large Dutch oven over medium heat. Add onions, garlic, red and green pepper, carrots and celery. Cook, stirring occasionally, until onions are softened, 8 to 10 minutes. Add chicken broth, chili sauce, remaining cumin spice mixture, diced tomatoes and beans. Turn heat to high; bring to a boil. Cover and reduce heat to low; continue cooking, stirring occasionally, for 30 minutes.
Combine corn meal and water in a small bowl until smooth. Slowly add corn meal mixture to soup, stirring well. Add reserved shredded chicken. Continue cooking until broth is slightly thickened and soup is heated through, 5 to 7 minutes.
Meanwhile, beat whipping cream in medium bowl until barely soft, 2 to 3 minutes. Add cranberry sauce; continue beating until stiff peaks form, 1 minute.
To serve, scoop soup into bowls. Top with a dollop of Cranberry Crème and sprinkle with fresh cilantro leaves.
Refrigerate leftover soup and crème.

More Ocean Spray Recipes