---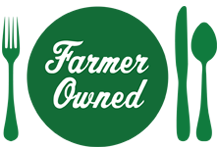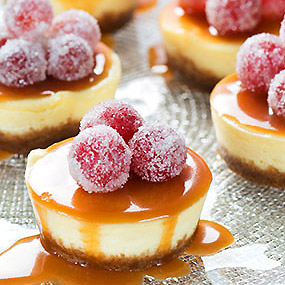 Prep Time
30 min

Cook Time
30 min

Ready In
60 min

Servings
12
Ingredients
CRUST
1 1/2 cups gingersnap cookie crumbs
1/4 cup unsalted butter, melted
FILLING
8 oz plain, brick-style cream cheese, softened
1 cup sour cream
1/2 cup granulated sugar
2 tsp lemon juice
1 tsp vanilla extract
2 eggs, beaten
FROSTED GRAPES
12 small red grape clusters
1/4 cup pasteurized liquid egg whites
1 cup granulated sugar
CARAMEL SAUCE
1 cup granulated sugar
1/4 cup Welch's Sparkling White Grape Juice
2 tbsp unsalted butter
1/2 cup 35% whipping cream
Directions
CRUST
Preheat the oven to 350°F.
Toss the gingersnap crumbs with the butter until well coated. Divide the crumb mixture evenly between the 12 muffin cups in a greased muffin tin; press firmly to cover the bottom.
FILLING
Beat the cream cheese with the sour cream, sugar, lemon juice and vanilla until smooth. Beat in the eggs, one at a time, just until combined. Pour an equal amount of the mixture into each muffin cup.
Bake for 15 to 18 minutes or until set but still slightly jiggly in the centre. Transfer to a wire rack to cool completely. Freeze for 3 hours or until easy to remove from muffin tin. Wrap tightly and store for up to one month or thaw before serving.
FROSTED GRAPES
Beat the egg whites until foamy. Dip a grape cluster in the egg whites, shake off the excess and carefully roll in sugar until well coated. Arrange on a wire rack to dry for at least 1 hour.
CARAMEL SAUCE
Place the sugar and Welch's Sparkling White Grape Juice in a small saucepan. Bring to a boil without stirring. Simmer for 7 minutes or until mixture is amber in colour. Remove from heat; cool for 1 minute. Slowly, whisk in cream and butter.
ASSEMBLE
Place each cheesecake on a plate, spoon caramel over top and garnish with a cluster of frosted grapes.