---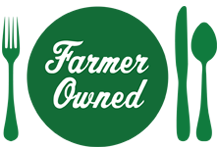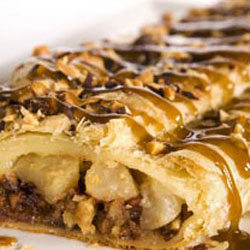 Prep Time
15 min

Cook Time
30 min

Ready In
45 min

Servings
8
Ingredients
1 tablespoon butter
2 firm but ripe pears, peeled, cored and sliced
1 sheet puff pastry (from 17.3-oz. box), thawed
1/2 of a 7-oz. tube almond paste, crumbled
1/2 cup Blue Diamond Oven Roasted Dark Chocolate Almonds, chopped, divided
VANILLA BROWN SUGAR DRIZZLE
1/4 cup butter or vegetable based buttery spread (such as Smart Balance or Earth Balance)
1/2 cup brown sugar
1 tablespoon flour
1/4 cup Blue Diamond Almond Breeze
Directions
Melt butter in a large skillet over medium heat. Add pears and cook over medium heat for 10 minutes to soften; set aside.
Unfold puff pastry and sprinkle with almond paste. Top with pears and 2/3 of the almonds. Fold in sides of puff pastry overlapping slightly and sprinkle with remaining almonds. Bake for 25 minutes or until puffed and golded brown.
To prepare drizzle, melt butter or buttery spread in a small saucepan. Whisk in brown sugar and flour. Bring to a boil; reduce heat slightly and boil for 2 to three minutes, stirring frequently. Add Almond Breeze and return to a boil; cook for 2 minutes more then let cool. Drizzle over cooled or warm strudel.
More Blue Diamond Recipes