---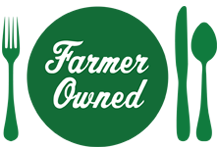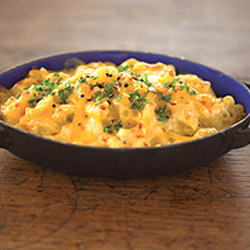 Prep Time
10 min

Cook Time
40 min

Ready In


Servings
8 to 10
Ingredients
1/2 cup (1 stick) Darigold Butter
1/2 cup all-purpose flour
3 cups Darigold Milk, heated but not boiled
6 cups (24 oz.) shredded cheddar cheese
2 teaspoons Tabasco or other hot pepper sauce
1/8 teaspoon ground black pepper
1 pound large elbow macaroni, cooked according to package directions
1/2 cup Darigold Whipping Cream
1/4 cup fresh whole-wheat bread crumbs
1/4 cup grated Parmesan cheese
3/4 teaspoon chili powder or hot paprika, to top
Fresh chopped parsley as garnish (optional)
Directions
Melt butter in a heavy, large saucepan over medium-low heat. Add flour and cook about 4 minutes, stirring constantly with a wire whisk.
Gradually whisk in hot milk, about one cup at a time, and cook, whisking constantly until sauce is bubbly and thickens (about 5 minutes).
Remove from heat; add Cheddar cheese, stirring until cheese melts. Stir in hot pepper sauce and ground black pepper.
Combine cheese mixture and cooked macaroni in a 13 x 9 x 2-inch baking dish coated with cooking spray. Pour cream over the macaroni and cheese.
Combine bread crumbs, Parmesan cheese and chili powder or hot paprika; sprinkle over top of macaroni mixture.
Bake at 375° F. 30 minutes or until hot and bubbly. Garnish with parsley and serve.
More Darigold Recipes