---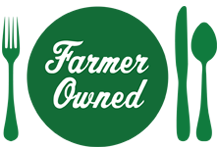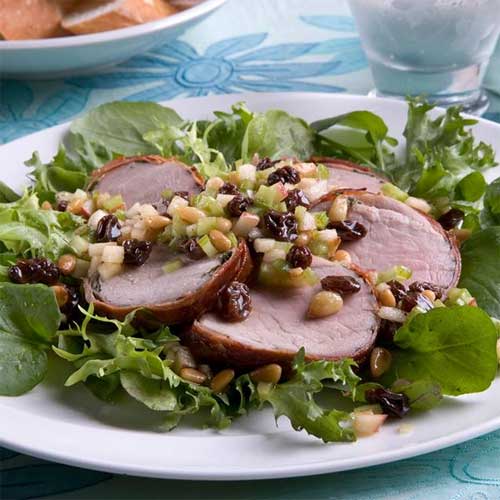 Prep Time


Cook Time


Ready In


Servings
4
Ingredients
RELISH
1/4 cup Sun-Maid Natural Raisins
1/4 cup apple, finely diced and sprinkled with lemon juice
1/4 cup celery, finely diced
2 tablespoons pine nuts, toasted
1/2 jalapeno, seeded and finely diced
1 tablespoon extra virgin olive oil
1 tablespoon aged balsamic vinegar
salt and pepper, to taste
TENDERLOIN
4 thin slices prosciutto or ham
1 teaspoon fresh thyme leaves
1 teaspoon sage leaves, thinly sliced
4 portions pork tenderloin (5-ounces each)
Salt and pepper
2 tablespoons olive oil
VINAIGRETTE
2 tablespoons rice wine vinegar
1 tablespoon balsamic vinegar
2 tablespoons extra virgin olive oil
salt and pepper, to taste
4 cups spring greens and arugula, washed and spun dry
Directions
RELISH
Combine all ingredients in a medium bowl; toss to coat well. Set aside so flavors can blend.
TENDERLOIN
Spread prosciutto slices on work surface.
Sprinkle with thyme and sage; wrap each around portion of pork.
Season liberally with salt and pepper.
Heat a large heavy skillet over medium-high heat until hot.
Add oil and cook wrapped pork pieces, turning until meat is caramel brown on all asides, about 4 minutes per side until meat reaches 140 F.
VINAIGRETTE
Combine all ingredients and whisk together.
Toss with greens to coat. Divide and arrange on 4 salad plates.
Slice tenderloin and arrange on top.
Spoon relish over all and serve.
More Sun-Maid Recipes