---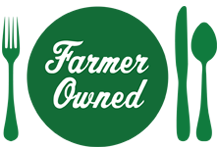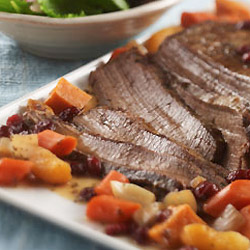 Prep Time
15 min

Cook Time
3 hrs

Ready In
3 hrs 15 min

Servings
6 to 8
Ingredients
2 tablespoons olive oil
1 3 1/2 pound beef brisket
1 cup beef stock
1 cup Ocean Spray® 100% Juice Cranberry Juice Blend
1 cup chopped onions
2 teaspoons dried herbes de Provence
4 medium carrots, peeled, cut into 1-inch pieces
1 large sweet potato, peeled, cut into 1-inch cubes
1 cup dried apricots, cut in halves
1/2 cup Ocean Spray® Craisins® Original Dried Cranberries
6 garlic cloves, peeled
Directions
Preheat oven to 325°F.
Heat olive oil in a 6 1/2 quart Dutch oven over medium high heat. Add beef brisket and cook until golden brown on one side, 5 to 6 minutes. Turn meat over and continue cooking until other side is golden brown, 5 to 6 minutes.
Add beef stock, cranberry juice, onions and herbes de Provence. Cover; bring to a boil.
Place covered Dutch oven in oven and bake for 2 hours.
Add carrots, potatoes, apricots, dried cranberries and garlic to Dutch oven; arrange around beef. Cover; continue baking until vegetables are tender, about 45 to 50 minutes more.
Serve meat sliced against the grain with vegetables and any sauce left in the pan.
More Ocean Spray Recipes