---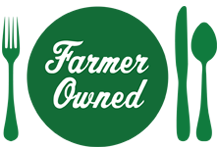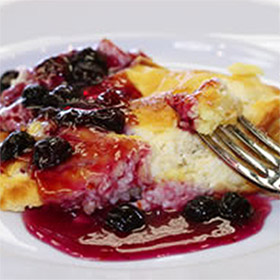 A Blintz Souffle
Presented by:

Prep Time
20 min

Cook Time
50-60 min

Ready In
3 hrs 20 min

Servings
6 to 8
Ingredients
FILLING
2 cups Darigold Cottage Cheese
2 egg yolks
1 tablespoon sugar
1 teaspoon vanilla
1 8-oz. package Neufchatel cheese, softened
BATTER
1 1/2 cups Darigold Sour Cream
1/2 cup Orange Juice
6 eggs
1/4 cup Darigold Butter, softened
1 cup flour
1/3 cup sugar
2 teaspoons baking powder
1/2 teaspoon cinnamon, optional
GARNISH
2 tablespoons powdered sugar
Darigold Sour Cream
Fresh berries or berry pie filling (flavor of your choice)
Directions
Grease a 13x9-inch baking pan.
In a small bowl beat all filling ingredients until mixed; set aside.
Place all batter ingredients in blender: cover and blend until smooth, scraping sides often.
Pour half of the batter into the prepared pan.
Drop filling by teaspoonfuls over batter; spread evenly. (Filling will mix slightly with batter.)
Pour remaining batter over filling.
Cover and refrigerate at least 2 hours or overnight.
Heat oven to 350°F.
Bake, uncovered, 50-60 minutes or until puffed and light golden brown.
Sift powdered sugar over top.
Serve blintz with sour cream and berries or heated pie filling.

---
Reviews