---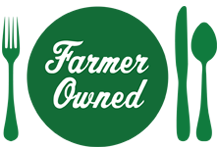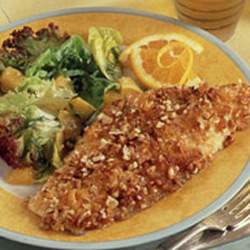 Prep Time


Cook Time
12 min

Ready In


Servings
4
Ingredients
4 U.S. farm raised catfish fillets
1/2 cup orange juice
1/3 cup olive oil
4 tsp light soy sauce
1 tsp ground or grated fresh ginger
1/2 cup pecans, toasted and finely chopped
1/2 cup packaged potato flakes
3 navel oranges, peeled and diced
1 5-8 ounce bag spring mixed salad greens
2 Tbsp slivered fresh basil
Directions
Preheat oven to 425F.
Whisk together orange juice, olive oil, soy sauce, and ginger to make a dressing.
Brush 2 tablespoons of the dressing on catfish. Place catfish on an oiled baking pan.
Mix together pecans and potato flakes; spoon on top of catfish. Drizzle with an additional 2 tablespoons of the dressing.
Bake for 10 to 12 minutes, or until fish flakes easily when tested with a fork.
Combine the remaining dressing with diced oranges and toss with salad greens and basil.
Divide salad mixture evenly over four plates. Top with catfish. Serve immediately.
More SouthFresh Farms Recipes