---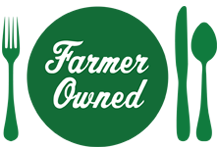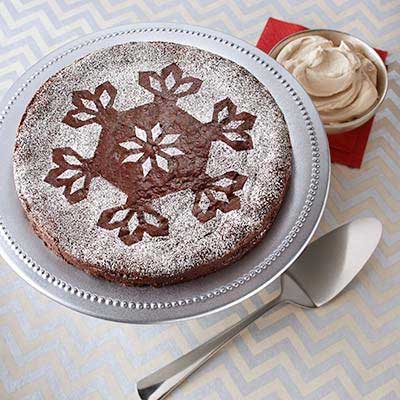 Prep Time
30 min

Cook Time


Ready In
3 hrs 10 min

Servings
16
Ingredients
CAKE
1 tablespoon instant espresso powder
1 tablespoon hot water
3/4 cup Land O Lakes® Unsalted Butter
6 ounces high-quality bittersweet chocolate baking bar, broken into small pieces
1 cup sugar
3 Land O Lakes® Eggs
1/2 cup unsweetened cocoa
ESPRESSO WHIPPED CREAM
1 teaspoon instant espresso powder
1 teaspoon hot water
1 cup Land O Lakes® Heavy Whipping Cream, chilled
1/4 cup sugar
SNOWFLAKE DESIGN AND TOPPING
2 tablespoons powdered sugar
1/8 teaspoon extra fine edible glitter
Snowflake Design Stencil (Get Design)
Directions
CAKE
Preheat oven to 350ºF.
Wrap outside of 9-inch springform pan with aluminum foil. Line bottom of pan with parchment paper. Butter parchment paper and sides of pan.
Combine 1 tablespoon instant espresso powder and 1 tablespoon hot water in bowl; set aside.
Place butter and chocolate in 2-quart nonstick saucepan. Cook over medium heat, stirring occasionally, until melted. Remove from heat; stir in espresso mixture. Add sugar; beat with whisk until combined. Add 1 egg at a time, whisking after each addition. Whisk in cocoa until well mixed.
Pour cake into prepared pan. Place springform pan into center of large roasting pan. Place roasting pan in oven. Fill space around springform pan slowly with hot water, to about 1 inch up sides of pan.
Bake 40-45 minutes or until center of cake is set.
Remove springform pan from roasting pan. Place onto cooling rack; remove foil. Cool completely.

ESPRESSO WHIPPED CREAM
Combine 1 teaspoon instant espresso powder and 1 teaspoon hot water in bowl; set aside.
Beat chilled whipping cream and 1/4 cup sugar in chilled bowl at high speed, scraping bowl often, until stiff peaks form. Stir in espresso mixture.

SNOWFLAKE DESIGN AND TOPPING
Combine powdered sugar and edible glitter in bowl.
Remove sides from springform pan; place cake onto serving plate. Place Snowflake Design Stencil on top of cake. Lightly dust top of cake with powdered sugar mixture. Carefully remove Stencil.
Serve with Espresso Whipped Cream (See Above.)