---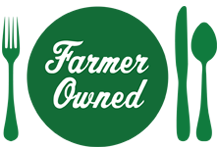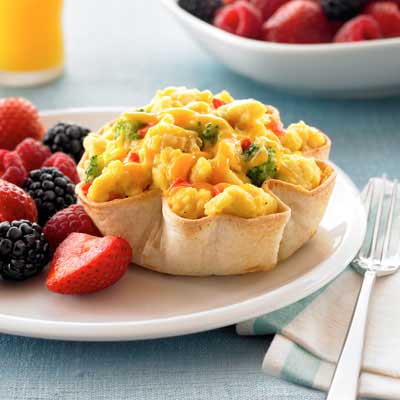 Prep Time
25 min

Cook Time


Ready In
45 min

Servings
6
Ingredients
TORTILLA CUPS
2 tablespoons Land O Lakes® Butter, melted
1/4 teaspoon garlic powder
6 (6-inch) flour tortillas
EGGS
1/3 cup milk
1/2 teaspoon salt
1/4 teaspoon pepper
1/4 teaspoon garlic powder
2 tablespoons Land O Lakes® Butter
1/3 cup chopped onion
1/3 cup chopped red bell pepper
1/3 cup chopped broccoli florets
3/4 cup shredded Cheddar cheese

Directions
Heat oven to 425°F.
Combine 2 tablespoons melted butter and 1/4 teaspoon garlic powder in bowl. Place 6 (10-ounce) custard cups onto 15x10x1-inch baking pan.
Brush both sides of each tortilla with melted garlic butter. Carefully fit tortillas into custard cups.
Bake 10-12 minutes or until tortillas are lightly browned.
Combine eggs, milk, salt, pepper and 1/4 teaspoon garlic powder in bowl; beat with whisk until well mixed.
Melt 2 tablespoons butter in 10-inch skillet until sizzling; add onions and bell pepper. Cook, stirring occasionally, over medium heat 3-4 minutes or until crisply tender. Stir in broccoli florets.
Pour egg mixture over vegetables in skillet. Continue cooking, gently lifting and stirring slightly with spatula to allow uncooked portion to flow underneath, 4-6 minutes or until almost set.
Stir in 1/2 cup shredded cheese; continue cooking 1-2 minutes or until cheese is melted.
Fill each baked tortilla cup with 2/3 cup egg mixture; sprinkle each with remaining shredded cheese.
More Land O' Lakes Recipes