---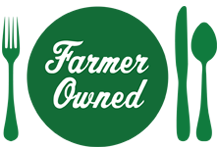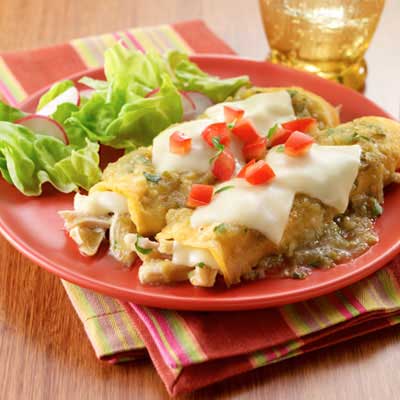 Prep Time
45 min

Cook Time


Ready In
1 hr 30 min

Servings
5
Ingredients
TOMATILLO SAUCE
4 cups water
1 teaspoon salt
1 pound (about 12) medium tomatillos, husks removed
2 medium (1 1/2 cups) onions, chopped
2 teaspoons finely chopped fresh garlic
2 (4-ounce) cans diced green chiles
2 teaspoons canned jalapeño chile peppers, chopped
1 cup chicken broth
1/4 cup chopped fresh cilantro
ENCHILADAS
1 cup vegetable oil
10 (6-inch) corn tortillas
3 cups shredded cooked chicken
16 (3/4-ounce) slices Land O Lakes® Deli White American, cut into quarters
TOPPING
Chopped tomato, if desired
Chopped fresh cilantro, if desired

Directions
Place water and salt in 3-quart saucepan. Bring to a boil over medium heat; add tomatillos. Cook 10-12 minutes or until tender. Drain; cool 10 minutes.
Combine cooked tomatillos, onion and garlic in 5-cup blender container. Cover; blend 1-2 minutes or until smooth.
Combine tomatillo mixture, green chiles, jalapeño peppers and chicken broth in 10-inch skillet. Cook over medium heat 4-5 minutes or until bubbling. Reduce heat to low; continue cooking, stirring occasionally, 8-10 minutes or until slightly thickened. Stir in cilantro.
Heat oven to 375°F. Heat oil in 10-inch skillet over medium heat. Using tongs, dip tortillas in oil a few seconds to soften. Place onto paper towels to drain.
Spread 1 cup tomatillo sauce in bottom of greased 13x9-inch baking dish.
Spread 1 tablespoon tomatillo sauce onto each tortilla. Layer about 1/3 cup chicken and about 3 pieces cheese on lower third of each tortilla; roll up tortilla.
Place into prepared pan, seam-side down. Pour remaining sauce evenly over enchiladas. Spread remaining slices of cheese evenly over top.
Bake 15-20 minutes or until sauce is bubbly and enchiladas are heated through.
Garnish with chopped tomato and cilantro, if desired.
More Land O' Lakes Recipes