---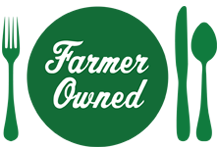 Prep Time
30 min

Cook Time


Ready In
1 hr 30 min

Servings
6
Ingredients
MEATLOAF
1 1/2 pounds lean ground beef
1 cup panko bread crumbs
1/4 cup milk
1 teaspoon finely chopped fresh garlic
1/4 cup chopped onion
1/2 teaspoon salt
1/4 teaspoon pepper
1/2 teaspoon ground mustard
1/4 cup ketchup
1/4 cup chopped fresh parsley leaves
1/8 teaspoon Worcestershire sauce
TOPPING
1/4 cup ketchup
3 tablespoons firmly packed brown sugar
1 teaspoon yellow mustard

Directions
Heat oven to 350ºF. Lightly spray 8x4-inch loaf pan with no-stick cooking spray.
Combine all meatloaf ingredients in bowl; mix well. Press into prepared pan.
Combine all topping ingredients in bowl; spread over meatloaf mixture.
Cover with aluminum foil; bake, removing foil for last 15 minutes, 60-65 minutes or until internal temperature reaches 160°F and meat is no longer pink.
Remove from Oven. Enjoy.
More Land O' Lakes Recipes