---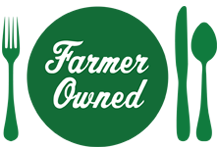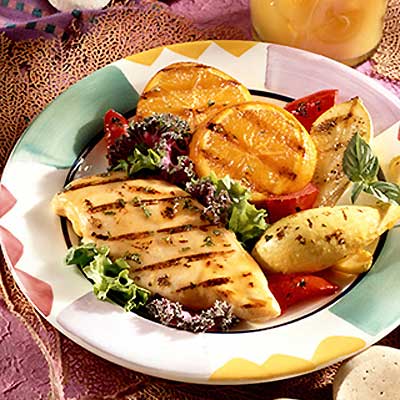 Prep Time
15 min

Cook Time
15 min

Ready In
30 min

Servings
8
Ingredients
1 1/2 cups cup Florida's Natural® Orange Juice
1/4 cup pancake syrup
3 tablespoons snipped fresh basil or 1 teaspoon dried basil, crushed
3/4 teaspoon garlic salt
8 skinless, boneless chicken breast halves (about 1 1/2 pounds total)
4 medium zucchini and/or yellow summer squash, cut lengthwise into quarters, or baby crookneck squash, halved lengthwise
2 medium red and/or green bell peppers, seeded and quartered
1 large pineapple, peeled, cored and cut into 8 slices
2 Valencia oranges, cut into 1/2-inch thick slices

Directions
SAUCE
In a small pan, bring 1 1/2 cups of orange juice to a boil; reduce heat and simmer until half the liquid—3/4 cup—remains. Let cool slightly.
In a bowl, stir together orange juice reduction, syrup, basil and garlic salt.
CHICKEN
Rinse chicken; pat dry with paper towels. Brush sauce generously over chicken, squash and peppers.
Place chicken and vegetables on the rack of an uncovered grill directly over medium coals.
Grill for 6 minutes. Brush with sauce; turn and brush again. Add pineapple and orange slices; brush with sauce. Grill for 6 to 9 minutes, or until chicken is tender and no longer pink, turning pineapple and orange slices once.
More Florida's Natural Recipes