---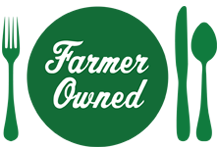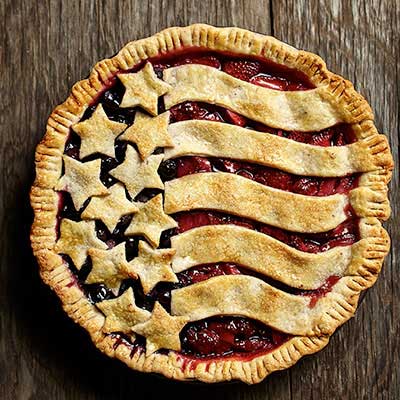 Prep Time
45 min

Cook Time


Ready In
2 hrs 45 min

Servings
8
Ingredients
CRUST
2 cups all-purpose flour
1/4 cup finely chopped almonds
1/4 teaspoon salt
2/3 cup cold Land O Lakes® Butter, cut into chunks
5 to 7 tablespoons ice water
FILLING
1 (16-ounce) container (2 1/2 cups) fresh strawberries, sliced
1 3/4 cups fresh raspberries
1 1/2 cups fresh blueberries
1/2 cup sugar
1/4 cup cornstarch
1 tablespoon water
1/2 teaspoon almond extract
EGG WASH
1 Land O Lakes® Egg, slightly beaten
Sanding sugar
Directions
Heat oven to 425°F.
Combine flour, almonds and salt in bowl; cut in butter, using pastry blender or two forks, until mixture resembles coarse crumbs. Stir in enough water just until flour is moistened.
Divide dough into 1/3 and 2/3 portions. Shape each portion into ball; flatten slightly. Wrap smaller ball of dough in plastic food wrap; refrigerate.
Roll out larger ball of dough on lightly floured surface into 1/8-inch thick, 12-inch circle. Fold into quarters. Place dough into ungreased 9-inch pie plate; unfold, pressing firmly against bottom and sides. Trim crust to 1/2 inch from edge of plate; set aside.
Place strawberries and raspberries into bowl. Place blueberries into another bowl.
Combine sugar and cornstarch in small bowl until well mixed. Add 1/4 cup sugar mixture, 1 tablespoon water and 1/4 teaspoon almond extract to blueberries; toss lightly to coat. Add remaining sugar mixture and remaining 1/4 teaspoon almond extract to strawberries and raspberries; toss lightly to coat.
Fold piece of aluminum foil several times to make 2-inch wide strip; place into pie crust to divide crust into 1/3 and 2/3 sections. Press down slightly into crust. Spoon blueberry mixture into 1/3 portion of pie crust. Spoon strawberry and raspberry mixture into larger area of pie. Carefully remove foil.
Roll out remaining ball of dough on lightly floured surface into 11-inch circle. Cut 5 3/4-inch strips of dough in wavy shape to create stripes on flag. Place over strawberry and raspberry mixture, trimming as needed. Fold bottom crust edge over edge of strips. Crimp or flute entire edge of pie.
Cut 10-12 stars from remaining dough using 1 1/2-inch cookie cutter; place stars over blueberry mixture. Brush crust with beaten egg; sprinkle with sanding sugar. Cover edge of crust with 2-inch strip of aluminum foil.
Bake 15 minutes; remove foil. Reduce oven temperature to 375°F. Continue baking 30-40 minutes or until crust is lightly browned and filling is bubbling.
Cool pie 1 hour before serving.
More Land O' Lakes Recipes