---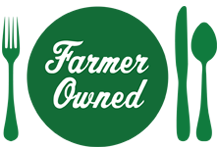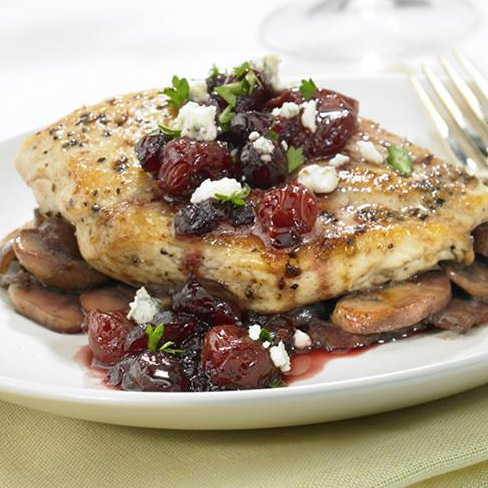 Prep Time
20 min

Cook Time


Ready In
55 min

Servings
6
Ingredients
4 slices hickory smoked bacon, sliced across in 1/2" pieces
1 small yellow onion, cut into thin rings and sliced into quarters
6 ounces sliced button mushrooms
1 large clove garlic, minced
1/2 teaspoon fresh thyme
1/4 teaspoon red pepper flakes
12 ounces red wine, divided
1 cup Ocean Spray® Craisins® Cherry Juice Infused Dried Cranberries
1/2 teaspoon salt
6 medium sized organic boneless and skinless chicken breasts
2 tablespoons Montreal Steak seasoning
1 teaspoon garlic powder
3 tablespoons oil
1/2 cup cherry preserves
2 tablespoons bleu cheese crumbles
1 tablespoon fresh parsley, coarsely chopped

Directions
In a medium size frying pan over medium high heat, saute the bacon until it starts to brown and the fat starts to render. Add the onion and mushrooms.
Cook until the onions are brown around the edges and the mushrooms are slightly wilted, approximately 3 - 5 minutes. Add the garlic, thyme and red pepper flakes and cook for 1minute before adding 1/2 cup of the wine and the salt. Cover, reduce heat and simmer, stirring frequently until ready to use.
Place the remaining cup of wine into a small bowl with the craisins. Cover and allow to soak until ready to use.
Lay chicken breasts in a single layer on a clean surface. In a small cup combine the steak seasoning and garlic. Sprinkle half of the mixture over the breasts, gently pressing spices into the meat, before turning over and sprinkling the remainder on the other side.
Place a large frying pan over medium heat. Add oil and heat. When oil is hot add chicken breasts.
Cook for approximately 5 to 7 minutes on each side, being careful not to burn (chicken breasts and spices should be a rich brown and juices should run clear when done). Remove pan from the heat and transfer breasts to a plate. Cover tightly with foil and allow to rest for 5 minutes.
While breasts are resting, return frying pan to the heat. Stir pan with a spoon to loosen any bits that are still in the pan.
Pour in the wine and the soaked Craisins. Allow the mixture to heat up to a boil, stirring frequently, allow it to reduce by about 1/3 its original volume. Whisk in the cherry preserves, reduce heat to low.
Place equal amounts of the mushroom mixture on 6 warm plates. Top with a chicken breast and then a generous amount of the crancherry sauce poured over the top. Sprinkle with the bleu cheese crumbles and parsley.
Serve immediately.
More Ocean Spray Recipes