---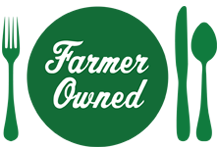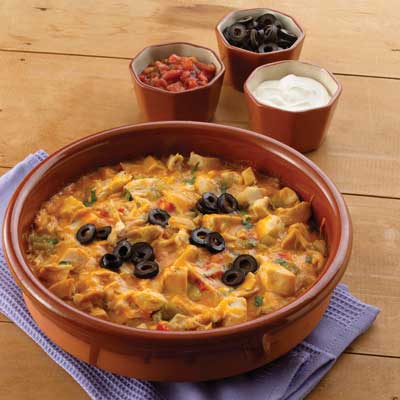 Prep Time
20 min

Cook Time


Ready In
55 min

Servings
4
Ingredients
CASSEROLE
3 tablespoons Land O Lakes® Butter
1/4 cup all-purpose flour
1 cup milk
1/2 cup reduced sodium chicken broth
2 cups chopped cooked chicken
1/4 cup chopped red bell pepper
1 (4-ounce) can chopped green chiles, drained
2 tablespoons dried taco seasoning mix
9 (3/4-ounce) slices Land O Lakes® Deli American
6 (6-inch) corn tortillas, halved
1/3 cup chopped fresh cilantro
TOPPINGS
Sour cream, if desired
Salsa, if desired
Sliced ripe olives, if desired

Directions
Heat oven to 375°F. Spray 2-quart round casserole or 8-inch square aluminum foil disposable pan with no-stick cooking spray. Set aside.
Melt butter in 2-quart saucepan until sizzling; add flour. Cook over medium heat, stirring constantly, 1 minute. Add milk and chicken broth. Continue cooking, stirring constantly, 4-6 minutes or until mixture comes to a boil. Add chicken, red pepper, chiles and taco seasoning; continue cooking 2-3 minutes or until heated through. Remove from heat.
Spread 3/4 cup chicken mixture in bottom of prepared pan. Arrange 4 tortilla halves over chicken mixture; top with 3/4 cup chicken mixture. Top with 3 slices of cheese. Repeat layering twice, beginning with tortilla halves and ending with cheese.
Bake 35-40 minutes or until bubbly. Sprinkle with cilantro.
Serve with sour cream, salsa and ripe olives, if desired.
More Land O' Lakes Recipes