---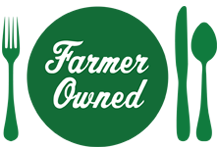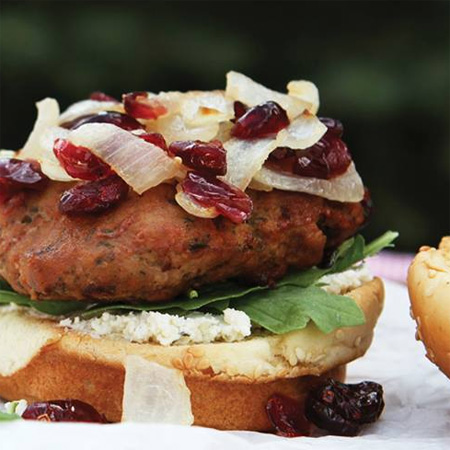 Prep Time
15 min

Cook Time


Ready In
30 min

Servings
18
Ingredients
1/3 cup ketchup
2 1/2 teaspoons dry mustard
3 tablespoons packed dark brown sugar
2/3 cup Ocean Spray® Jellied Cranberry Sauce, mashed
2 tablespoons olive oil
2 tablespoons butter
1 small onion, peeled and thinly sliced
1/2 cup Ocean Spray® Craisins® Original Dried Cranberries
1 1/2 pounds freshly ground turkey
1/2 pound sweet Italian sausage, casing removed and finely crumbled
1/4 cup thick and creamy horseradish
1/3 cup freshly minced cilantro
1 teaspoon salt
1/4 teaspoon freshly ground pepper
18 small dinner rolls, about 2 inches in diameter, split and toasted
5.4 ounces Boursin style herb and garlic flavored cheese, at room temp.
3 cups baby arugula leaves, washed and dried

Directions
In a small glass bowl, combine ketchup, mustard, brown sugar and cranberry sauce. Microwave on medium-high power for 1 minute. Stir until mixture is smooth and well blended. Set aside.
In a large skillet, warm oil and butter over medium heat; saute onion and craisins, for 5 minutes. Set aside and keep warm.
Preheat broiler
In a large bowl combine turkey, sausage, horseradish, cilantro, salt and pepper. Mix to combine.
Moisten hands and shape mixture into 18 mini burgers. Lightly spray broiler pan with non-stick cooking spray. Place burgers on broiler pan; brush lightly with Zesty Cranberry Ketchup; broil 3 minutes; turn; brush generously with glaze and broil another 3 minutes.
Serving Tip
Spread bottom half of rolls with cheese and then layer with arugula leaves; glazed turkey burger; then with the sauted onion and cranberry mixture; and then cover with the top of the bun.
More Ocean Spray Recipes