---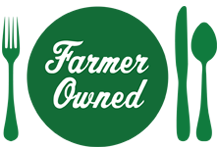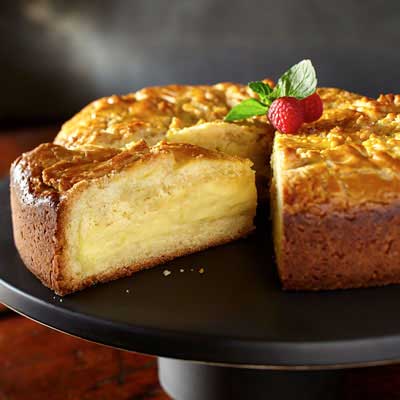 Prep Time
1 hr 30 min

Cook Time


Ready In
10 hrs

Servings
16
Ingredients
FILLING
2 cups whole milk
1/2 cup sugar
2 Land O Lakes® Eggs (yolks only)
1/2 cup all-purpose flour
2 tablespoons amaretto*
DOUGH
3 cups all-purpose flour
1 cup almond flour
1 teaspoon baking powder
1/2 teaspoon salt
3/4 cup Land O Lakes® European Style Butter, softened
1 cup sugar
3 Land O Lakes® Eggs (yolks only)
EGG WASH
1 Land O Lakes® Egg (yolk only)
1/8 teaspoon salt

Directions
Combine 1 1/2 cups milk and 1/2 cup sugar in 3-quart saucepan. Cook over medium heat, stirring occasionally, 10-12 minutes or until mixture just bubbles around edges.
Place 1 egg, 2 egg yolks and remaining 1/2 cup milk in bowl; beat with whisk until combined. Stir in 1/2 cup flour until smooth. Slowly add 3/4 cup hot milk mixture into egg mixture, whisking continuously. Return egg mixture to saucepan; cook over medium-low heat, stirring constantly, 4-6 minutes or until mixture thickens and bubbles just begin to form. Do not boil.
Remove from heat; stir in amaretto. Pour into bowl; press plastic food wrap onto surface of filling. Refrigerate at least 1 hour.
Combine 3 cups flour, almond flour, baking powder and 1/2 teaspoon salt in bowl; mix well. Set aside.
Combine butter and 1 cup sugar in another bowl; beat at medium speed until creamy. Add 2 eggs and 3 egg yolks, 1 at a time, mixing well after each addition. Add flour mixture gradually, beating at low speed until well mixed.
Wrap 1/3 dough in plastic food wrap; flatten slightly. Wrap remaining dough in plastic food wrap; flatten slightly. Refrigerate at least 2 hours or until firm.
Heat oven to 375°F. Place oven rack in lowest position. Spray 9-inch round springform pan with no-stick cooking spray; set aside.
Roll out larger portion of dough on well-floured surface to 13-inch circle. Carefully fold in half; place dough into prepared pan. Unfold; press into bottom of pan and up sides. Let excess drape over edge of pan. (Press pieces back together if dough cracks.) Spread cooled filling into dough. Roll smaller portion of dough into 8-inch circle. Place over filling.
Beat 1 egg yolk and 1/8 teaspoon salt in bowl; brush smaller dough piece with egg wash. Carefully fold excess dough over top; brush with egg wash. Score dough with fork, making crisscross design over top of cake.
Bake 45 minutes. Then, loosely cover with aluminum foil. Continue baking 15-17 minutes or until cake is deep golden brown. Cool 10 minutes in pan; carefully remove side of pan.
Refrigerate at least 5 hours or overnight. Serve at room temperature. Cover; store refrigerated.
Substitution*
*Substitute 1/2 teaspoon almond extract.
More Land O' Lakes Recipes