---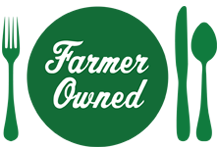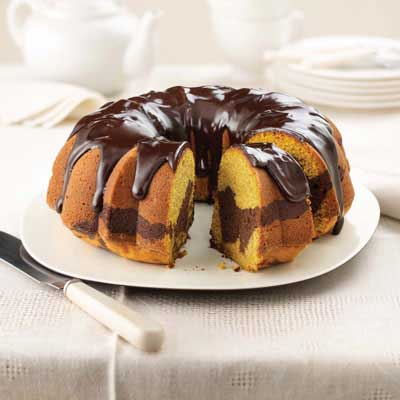 Prep Time
45 min

Cook Time


Ready In
3 hrs 10 min

Servings
16
Ingredients
CAKE
2 cups sugar
1 cup Land O Lakes® Butter, softened
4 teaspoons vanilla
1 cup mashed cooked pumpkin*
2 1/4 cups all-purpose flour
1 1/2 teaspoons baking powder
3/4 teaspoon salt
3/4 teaspoon ground cinnamon
1/4 teaspoon ground nutmeg
1/8 teaspoon ground cloves
3 (1-ounce) squares bittersweet baking chocolate, melted
1/3 cup buttermilk**
GLAZE
1/3 cup Land O Lakes® Heavy Whipping Cream
1 cup mini semi-sweet chocolate chips

Directions
Heat oven to 350°F. Spray 12-cup Bundt® pan with no-stick cooking spray; set aside.
Combine sugar, 1 cup butter and vanilla in bowl; beat at medium speed until creamy. Add 1 egg at a time, beating well after each addition. Place 1 cup batter into another bowl; set aside.
Add pumpkin to remaining batter in bowl; beat at medium speed until well mixed. Add 1 3/4 cups flour, 1 teaspoon baking powder, salt, cinnamon, nutmeg and cloves. Beat at low speed until well mixed. Spoon half of pumpkin batter into prepared pan.
Add melted chocolate to reserved 1 cup batter; beat at medium speed until smooth. Add remaining 1/2 cup flour and 1/2 teaspoon baking powder; continue beating until well mixed. Add buttermilk; beat until well mixed.
Drop chocolate batter by tablespoonfuls over pumpkin batter in pan. Top with remaining pumpkin batter; spread to edges of pan. Swirl chocolate batter into pumpkin batter with a table knife.
Bake 50-60 minutes or until a few moist crumbs cling to toothpick inserted into center. Cool in pan 10 minutes. Invert onto serving plate; cool completely.
Pour whipping cream in 2-cup glass measuring cup; microwave 45-50 seconds or until mixture comes to a boil; add chocolate chips. Let stand 1 minute; stir until smooth. Spread glaze over top of cake.
Optional Substitutions
*Substitute canned pumpkin.
**Substitute 1 teaspoon vinegar or lemon juice and enough milk to equal 1/3 cup; let stand 5 minutes.
More Land O' Lakes Recipes