---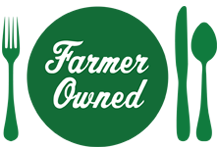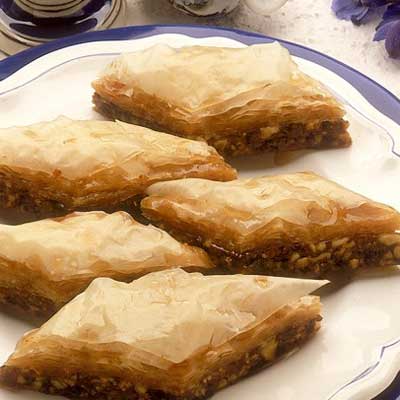 Prep Time
30 min

Cook Time
50 min

Ready In
8 hrs

Servings
48
Ingredients
1 cup butter, melted, divided
4 cups finely chopped walnuts
1-1/2 cups Sun-Maid Natural Raisins
1/2 cup sugar
2 teaspoons cinnamon
1 pound frozen phyllo pastry sheets, thawed
HONEY SYRUP
2 cups sugar
1 cup water
1/3 cup honey
1 tablespoon lemon juice
1 cinnamon stick
3 whole cloves

Directions
Heat oven to 325° F.
Lightly coat a 15x10-inch jelly roll pan with 1 tablespoon melted butter.
Combine walnuts, raisins, sugar and cinnamon; set aside.
Unroll phyllo sheets. Place one sheet in pan; cover remainder with plastic wrap or towel.
Brush sheets in pan lightly with butter; fold edges over to fit pan.
Repeat with 4 additional phyllo sheets, placing one on top of another.
Sprinkle with 1/3 of walnut raisin mixture.
Repeat layers of 5 phyllo sheets and 1/3 walnut-raisin mixture twice.
Top last walnut-raisin layer with layer of 5 buttered phyllo sheets; fold edges under to fit pan.
Cut top of baklava lengthwise, about 1/3 through, into 1-3/4-inch strips.
Then cut into 1-3/4-inch strips at an angle from other side of pan, forming diamonds.
Bake for 50 minutes. Remove from oven and let cool for 10 minutes.
HONEY SYRUP
While baklava is baking, make the Honey Syrup.
In saucepan, combine all syrup ingredients.
Bring to a boil, stirring to dissolve sugar; simmer 10 minutes.
Set aside; remove cinnamon stick and cloves.
After removing baklava from oven, let cool 10 minutes. Spoon syrup over the top.
Let stand several hours or overnight.
More Sun-Maid Recipes