---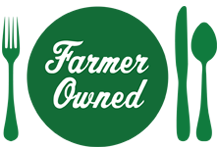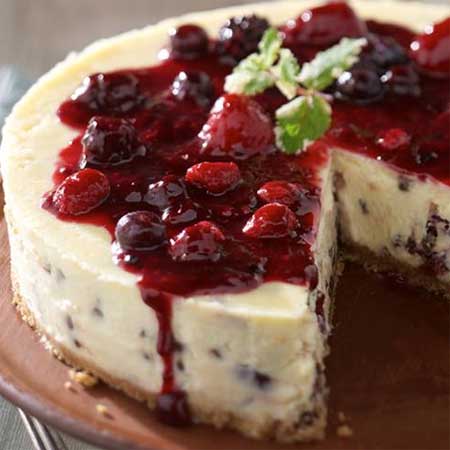 Prep Time
20 min

Cook Time
2 hrs 15 min

Ready In


Servings
16
Ingredients
CHEESECAKE
1 1/4 cups graham cracker crumbs
1/3 cup butter, melted
4 (8-ounce) packages cream cheese, softened
1 1/2 cups sugar
4 eggs
1 egg yolk
1/3 cup sour cream
2 tablespoons whipping cream
1 tablespoon real vanilla extract
1/2 cup Ocean Spray® Craisins® Cherry Juice Infused Dried Cranberries
1/2 cup mini chocolate chips
SAUCE
3 cups frozen mixed berries
1/2 cup Ocean Spray® Cran•Cherry® Cherry Cranberry Juice Drink
1/4 cup sugar
1 tablespoon freshly squeezed lemon juice
Heavy Duty Foil

Directions
Heat oven to 325 ºF.
MAKE CRUST
Combine graham cracker crumbs and butter in a medium mixing bowl. Place mixture in a 9-inch springform pan. Press crumbs on bottom in even layer. Using heavy duty foil, wrap bottom of cheesecake pan with foil up to top of pan. Bottom and sides should be covered. Set aside.
MAKE FILLING
Using an electric mixer, beat cream cheese until soft. Add sugar; beat until well mixed. Add eggs and egg yolk, one at a time, beating 10 to 15 seconds after each addition. Do not overbeat. Add sour cream, whipping cream, and vanilla; mix well. Fold in Craisins® and chocolate chips.
Pour into prepared springform pan. Carefully place wrapped springform pan into large roasting pan. Add hot water to reach halfway up springform pan, being careful not to get water into cheesecake. Place roasting pan into oven. Bake 50 to 60 minutes, or until sides of cheesecake are set and center is almost set. Do not overbake or cheesecake will crack.
Turn off oven. Prop open door with a wooden spoon. Leave cheesecake in oven for one hour.
Remove from oven and place in refrigerator for 6 to 24 hours, until completely cooled. Carefully run knife around rim of pan to loosen cheesecake. Remove sides of pan.
MAKE SAUCE
Add all sauce ingredients to a 2-quart saucepan. Cook over medium heat, stirring occasionally, until sauce is slightly thickened (15 to 18 minutes). Cool.
Serving Suggestion
Place half of sauce on top of cheesecake. Cut cheesecake into pieces, then serve with additional sauce.
More Ocean Spray Recipes